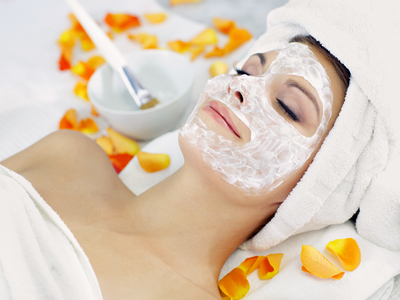 Photo: Gregor Hočevar
As a beauty editor, I'm always looking for fab new ways to soften, brighten, and clear my skin–almost obsessively so. So whenever I splurge on a facial, I expect to see mind-blowing results.
This weekend, I met with Christina Zehavi–founder of Christina Cosmeceuticals and aesthetician to beautiful European royalty–who gave me a fancy facial. Her techniques were completely unorthodox, her products strange smelling, but hands so damn soft. The result? The most amazing skin I have ever seen on myself.
Christina did something I've never heard before: she used silk. Pulling very thin layers of silk out of a jar, she placed it all over my face then covered it in a moisturizer with, what felt like, a makeup brush. Ten minutes later, my skin had completely absorbed the silk and it felt softer than a baby's bottom. Seriously, I couldn't stop touching it.
So it got me thinking: what other strange ingredients are out there to make skin look flawless?
Our associate editor, Megan, swears by satin pillowcases. Since they don't fold, she says, the satin will help prevent wrinkles we get from sleeping. I've also heard aestheticians say putting honey on your mouth will heal cracked lips, and it's anti-viral properties will fight cold sores. Or that olive oil, when applied to your damp skin after a shower, will make your skin feel like pure silk.
Get The Look: Jessica Chastain's Shiny Locks
I love the idea of saving mullah on pricey skincare products by using an unusual ingredient– and hey, it could make my facials less of a necessity and more of a treat! Do you know quirky tricks to bring life back into your skin?