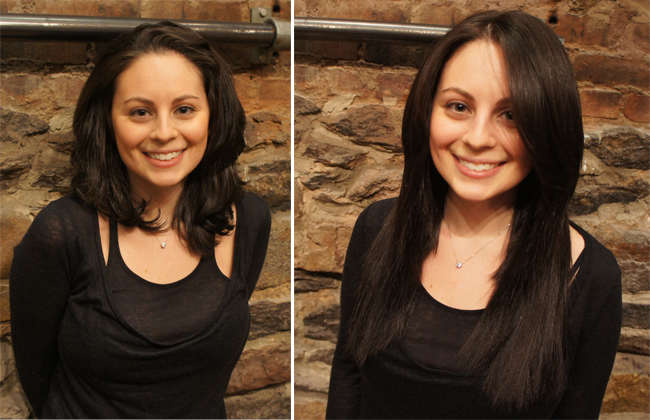 Let me start this story off by saying that, for as long as I can remember, I've had a love-hate relationship with my hair. It's always been somethingtoo frizzy, too curly, too thickand I could never really find a happy medium. That was until two years ago, when I had to undergo chemotherapy treatments and it all fell out at once. Trust me: Ive had my fair share of bad hair days, but I much preferred having a wild mess of it than none at all.
Now, after months and months of patiently waiting for my hair to grow out, it's finally reached shoulder length, but I'll be honest, I really miss my long hair. So, when I heard that Cesar Ramirez had a solution for mealbeit a temporary oneI jumped at the chance and headed to the Dop Dop Salon in Soho for some custom-made clip-in hair extensions.
Considering that I wore a wig for almost a year, I'm surprisingly well-versed in the realm of fake hairwhen it's good, it looks really good, and when it's bad, it's terrible. Luckily for me, Cesar is a master of his craft (he regularly works with celebrities like Aubrey O'Day and Beyonc) and I couldn't have been happier with the results.
He used Indique hairwhich is 100% virgin, untreated hairand the first step of the process was to lighten the extensions to match my natural color. Cesar says that the key to any type of hair extensions is that they look as natural as possiblethey should match your texture, ethnicity and length almost exactly. The type of extensions that I choseclip-insare the most versatile and least damaging to the hair. They're ideal for special occasions, as well as for fuller hair and longer length for those who don't want the 3-4 month commitment of permanent extensions.
Cesar asked me how long I wanted my hair to be (as long as possible without looking too fake, please!) and measured six sections of the Indique to be clipped in different areastwo pieces near the nape of my neck, two more around the back of my head, and one behind each ear. He trimmed my hair so that the layers fell naturally around my new extensions, which stay in with clips that Cesar hand-sewed on.
The beauty of the clip-ins is that I can leave them in for a few days and treat them like my own hair (wash them, blow them dry, etc.), but I can just as easily take them out. When he was finished, Cesar drew me a handy diagram on how to put them in myself, but I'll admit, it's a little complicatedKerry says that it looks like directions for building an atom bomb.
Long story short, I loved my new look, and while I've grown used to my cropped 'do, the clip-in extensions were a fond reminder of my long-haired days of yoreas well as what I have to look forward to as my hair continues to grow. Click through to see photos of my transformation!