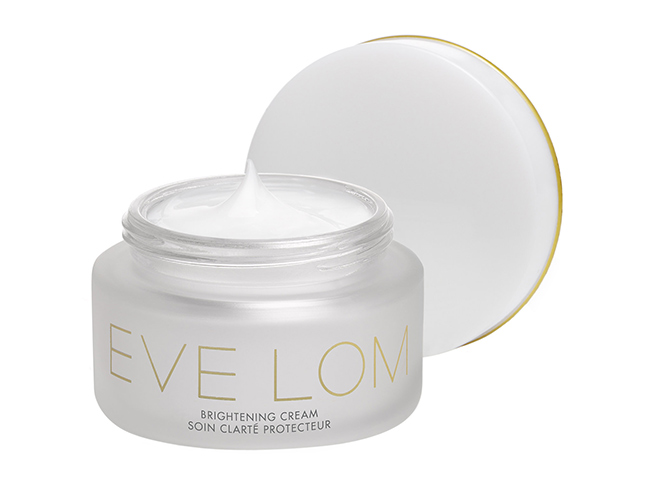 Seems like it's been a minute now that this—the Year of Brightening—is the "in" skin look that everyone wants. Well, who wouldn't want an inner glow that radiates from within? Unfortunately since we have things like jobs or school or both and balancing all aspects of our lives, that glow tends to get put on the back burner. And when you are on the hunt for a miracle glow cream, it's a scientific labyrinth of ingredients to read up on and lots of tall allegations of "brighter skin in just 2 weeks!" If you're skeptical, you're right to be. We were too when Eve Lom released its new Brightening Cream this spring. What makes this one better or worse than other face treatments that claim to brighten skin? After a month-long daily and nightly use, we were convinced that this goes up on the top shelf of holy grail skin care items.
Product Perks:
Other than the purpose of brightening, this cream feels like a lightweight super-hydrating dream with Rose otto oil, aloe vera, and sodium hyaluronate. It smells faintly of roses, which is super relaxing.
When applied, the finish is actually a softened gleam, like an eggshell finish, so it makes your skin look smoothed over as if you had used a primer. It works great under makeup.
The Betaine and allatoin calms inflammation in the skin and reduces redness, while Absysinian oil, Chinese root extracts, and vitamin E work to increase elasticity, promote moisture retention, and plump out fine lines while also protecting against free radicals and environmental pollutants.
MORE: Brightening, Lightening, And Whitening Products Explained
How It Works:
What makes this brightening cream unique is that it uses Dermapep™, a brightening peptide that is clinically proven to be 20 times more effective at lightening pigmentation than other common brightening ingredients like kojic acid, arbutin, and hydroquinone.
This cream works by actually blocking melanin production in your skin (the stuff that makes you tan in the sun) to even out your complexion's tone. It doesn't necessarily lighten your skin any shades, it just brings your skin back to its original shade, unaffected by sun exposure or hyperpigmentation. Over time, the DermaPep works with the other anti-inflammatory and calming ingredients to unify your complexion.
After using this for about a month, we noticed plumper skin that was well-hydrated and definitely more evenly toned and brighter.
MORE: Top Skin-Brightening Products To Keep In Your Medicine Cabinet