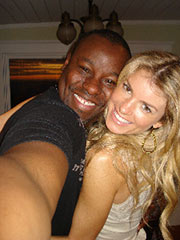 I just did a cover of Cosmo with the famous super model Marisa Miller. It was shot in Malibu California and the weather was beautiful!
Marisa is known for her amazing work with Victoria's Secret, Sports Illustrated and countless covers of magazines like Shape, GQ, Complex and Esquire. She is considered the All-American girl and is originally from southern California.
Of course, Cosmo is all about looking sexy so I created these big beautiful waves for her.
To create this, first start off by blow-drying hair with a round brush so it's super-smooth and frizz-free. That's always key if you want the best looking hair ever because it creates a good foundation that leads to the absolute best end results.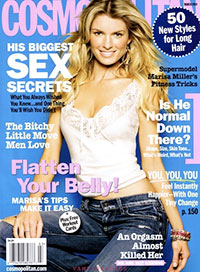 Once everything is dry, create a center part and then spray on hair spray and Build It Blow Drying Agent to create ultimate volume.
Then, using a large barrel curling iron, curl one to 1 inche wide sections of hair throughout the entire head. Tip your head upside down and finger comb through your hair from scalp to ends. This will bring out all the sexy body. Spray Beautiful Hold Hairspray to set the style.
Remember, Beauty Is individual