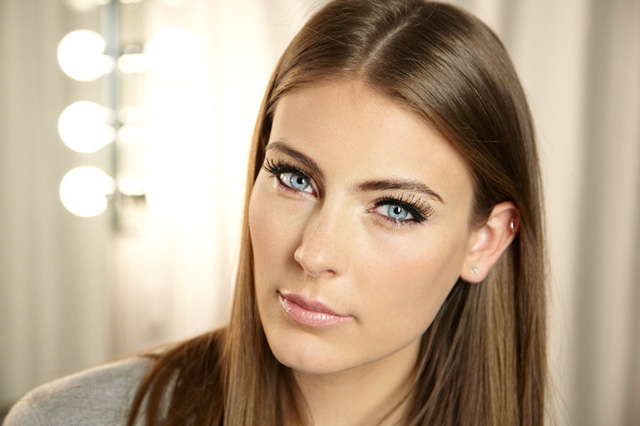 When applying your makeup look, many of us choose to play up just one thing – our eyes, lips, or even cheeks. Sticking to this route, we're of course in love with the latest va-va-voom lash look, with pale pink lips to match. This sex kitten style can be quite simple once you master the task of false lashes. Although daunting to some, others find them to be addicting, and a simple tube of mascara can never again add up.
Achelle Dunaway of e.l.f. Cosmetics shows us how to apply false lashes and complete the look with a subtle pink lip below.
Step 1:
Apply eyelid primer on your lid, blending all the way up to your brow bone.
Step 2:
Dust a natural colored shadow over the lid.
Step 3:
Add a bit of contour with a darker shade in the crease. This keeps the look natural but adds a bit of shadow.
Step 4:
Using a black eyeliner pencil, line along the lash line as close as possible to the top lash line and work it in with a smudger. Then line along the inner rim to increase the intensity of the black line.
Step 5:
Curl your lashes and then size the false lashes to your eye. Hold up the lashes and start where your normal lashes start. You don't want them to go too far, so you'll want to trim them to fit. Don't assume that both eyes will be the same size!
Step 6:
Let the glue sit on the lashes for a few seconds so it gets tacky, then glue them at the base of your natural lashes facing downward. Hold the corners in place until the glue sets.
Step 7:
Re-line lash line with liquid liner to help blend in lashes and apply mascara.
Step 8:
Use your concealer and blot your lips to ensure that the color will last on your lips, and then apply a chapstick to hydrate.
Step 9:
Apply lipstick using an applicator brush to get directly to the lip line and finish with a gloss for extra shine.
Photos courtesy of Joey D'Arco for Beauty High. Model: Ellie Ross, One Management