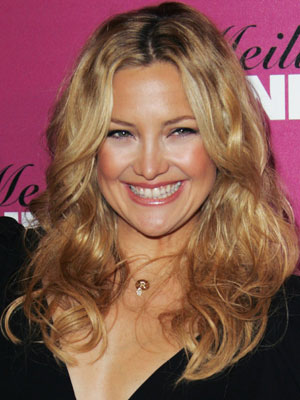 Kate Hudson shines with glowing, beachy highlights.
Photo: Tony Barson / WireImage.com
Gorgeous highlights look good seaside or any time. The best way to get sunny streaks like Kate Hudson without risking damage is to call in the experts. That's why we asked celebrity colorist Joel Warren to give us the lowdown on beachy highlights:
"Ask your colorist to concentrate the highlights in your bang area, on the top of the crown and the hairs that frame your face. This mimics the natural highlighting pattern your hair would naturally have with repeated sun exposure."
If you want to try this at home, our step-by-step highlighting guide can help you get the look. Follow our recommendations carefully and use a haircolor kit applicable for your hair color and type.
Want to try different hair colors before making a full commitment? Check out our Makeover Studio!
About This Wedding Expert: Celebrity colorist Joel Warren has worked with New York and Hollywood's elite such as Ivanka Trump, Jessica Alba, and Kate Beckinsale. Currently serving as L'Oral Professionnel Hair Color Brand Ambassador, his collaboration with celebrated stylist Edward Tricomi launched the Warren-Tricomi Salon, one of the most sought-after salon appointments in Greenwich, CT, Los Angeles, and in New York City's famed Plaza Hotel.
Have a bridal beauty question? Ask us!