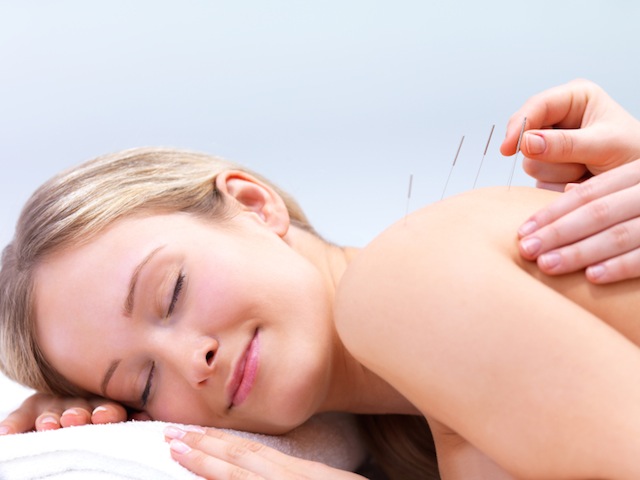 Living in a fast-paced city, if you talk to someone about being "tense" or "stressed" the answer is almost always along the lines of "welcome to the club." But as many of you in this not-so-coveted club know, the aforementioned adjectives tend to bring along a whole host of problems in addition to just a crappy mood or a busy schedule. Continuing this hectic spiral often leads to health issues such as tension headaches or neck and back pain, something that no one enjoys dealing with day-to-day.
I have been a longtime sufferer of migraine headaches and tension headaches (I like to give many reasons for this, mostly blaming it on my OCD-like qualities), but have tried a variety of things to help lessen the frequency of the headaches. A couple of years ago I did a series of Botox shots (which is known to help with migraines) and although it was an interesting trial-run with Botox, the shots didn't actually help decrease my headaches at all, so I stopped. Over the years I have had several friends tell me to try Acupuncture, as they've used it for other ailments, and I finally got around to doing so after speaking with Dr. Frank Lipman.
Dr. Lipman is an extremely well-known wellness expert with a roster full of celebrity clients such as Maggie Gyllenhaal and Gwyenth Paltrow. Lipman was South-African born, and has a background in both Western medicine practices and herbal remedies. When we began to discuss acupuncture as an option for headache treatment, Lipman immediately assessed the pressure points in my neck and shoulders and told me right away that due to the amount of tension in certain areas I was obviously getting headaches on the right side of my head (which was true).
I laid down on my stomach and he chose a few points to concentrate on for the acupuncture, and inserted hair-thin needles into the areas. There was a small prick but it was honestly hardly noticeable. I had about 10 needles inserted in all (the areas ranged from my shoulders all the way up into the base of my neck, right at the bottom of the hair line), and then a heat lamp was turned on to "keep me warm" and relax and Buddhist chants were put on to help put me into a lower stress state. I remained this way for about 25 minutes (and fell asleep about 10 minutes in) and woke up feeling like an entirely new person.
Afterwards he noted that I'll probably need a few more treatments to see greater results and to continue working on those knots. As I wandered back to my office, I realized I felt like I was floating on air (a rare occurrence in a New Yorker's life) and that acupuncture was definitely something that needed to be added into my regular routine.
To schedule your own session, contact Eleven-Eleven Wellness Center, 32 W. 22nd St. NY, NY (212) 255-1800 or visit Dr. Lipman's website for more information.
[Image via Istock]