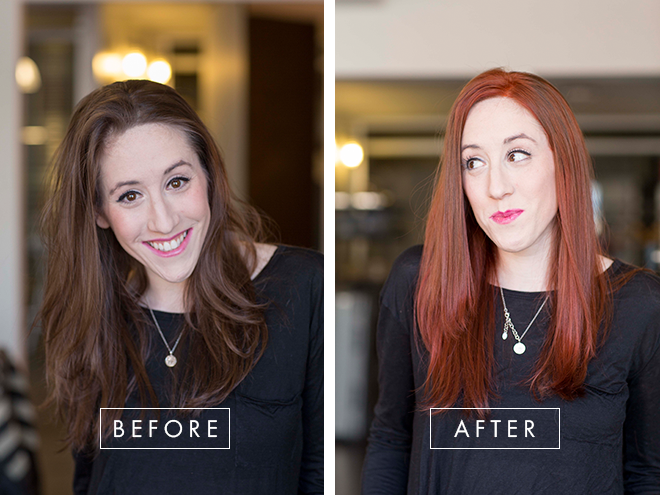 We make bold style choices every day—from choosing what clothes to wear to what lipstick to try—so why not try something a bit bolder with your hair? When our social media director, Rachel, decided to make a dramatic hair color change, we turned to the experts at Vidal Sassoon for some inspiration.
The recently-launched Vidal Sassoon Pro Series London Luxe Collection offers six of the boldest, brightest colors we've ever seen on a drugstore shelf, making the line a refreshing alternative to the traditional brunette and auburn box dyes.
"My hair is dark and I wear mostly lots of dark colors, so I'm getting bored of everything looking the same," Rachel told us. "I've always wanted to try red, but the idea of doing something so drastic –and permanent—had me chickening out!"  With a little encouragement, we decided to go with Vidal Sassoon's Runway Red, which is a rich ruby shade.
The dye is permanent and promises vibrant color for up to eight weeks—a more commitment-friendly time frame for someone looking to make a fun change. "I'm excited to try it, and since it won't last forever I'm not scared about having shocking results," said Rachel.
Rachel enlisted the help of a friend for moral as well as styling support, and the dyeing process itself was pretty simple. Here's how to do it: First, make sure that you are wearing a t-shirt or towel you don't care about (the dye may splatter a bit), and then, put a coat of Vaseline around your hairline and on your ears so you don't dye your skin in the process.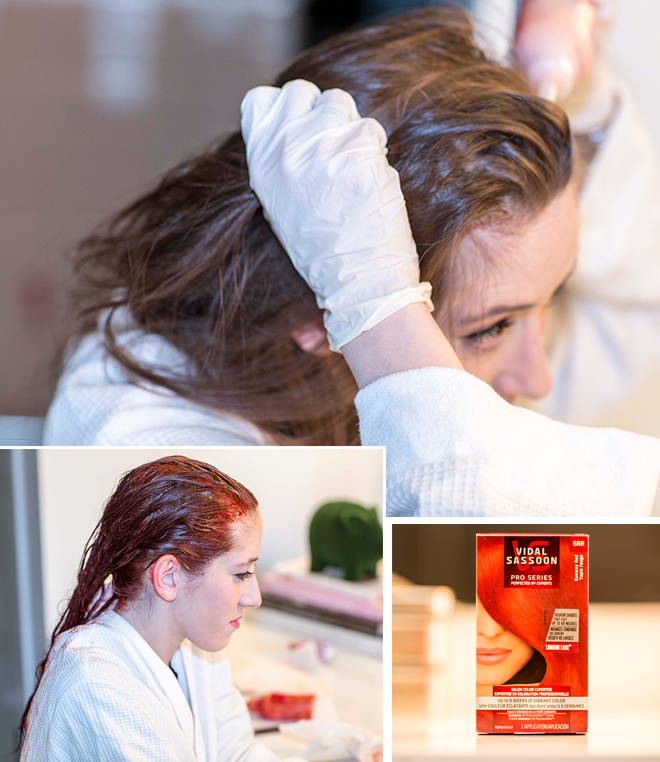 Now you're ready to prepare the dye, which means squeezing a tube of color crème into a squeeze bottle of development crème and shaking.  After putting on protective gloves, you can start to apply the dye to your hair—either squeezing it directly onto your hair or putting it on your hands and then finger-combing through your hair. We'd suggest using an actual comb as well to help distribute the dye evenly. (Even application is critical—otherwise you'll end up with spots that appear more faded.) Don't forget to apply color to the areas by your ears and underneath by your neck, so that your hair looks evenly colored even when you wear it up.
After about 30 minutes, flip your head over to rinse the dye out of your hair in the shower or sink—and voila! Vibrant color.
"Seeing the color really come out as I was dyeing and drying was the best part.  There was definitely a 'whoa' moment, but mostly because I was so excited to have red hair after years of considering it and now feel like an entirely new me." Rachel said. After towel drying and making sure that all the dye was washed out, Rachel styled her hair using a blow-dryer and paddle brush, finishing it off with a flat iron to tame fly-aways. The result was glossy, bold, red locks.
Rachel's take on her new look? "I love it! Everything looks different against the new color, I feel like I have a whole new wardrobe."
Are you about to make a bold change in your life?  Tell us about it for a chance to be a winner!  Vidal Sassoon Pro Series is holding a #ColorMeBold contest on their Facebook Page where you can enter to win a $4,000 shopping spree in London just by showing us what makes you bold.  Is it your style? Your personality?  You quit your job to pursue your dream? Upload a bold pic of yourself—remember to include your hair—and you're automatically considered to win!  

For more information on our relationship with Vidal Sassoon: cmp.ly/