The shorter the hair, the less maintenance. On the flip side, there are less options when it comes to jazzing up your pixie for New Year's Eve. We've admired celebs' use of styling products—from Jennifer Lawrence's rough texture to Anne Hathaway's slicked back style—but if you really want to dress it up, it takes a little more creativity. We sought the help of Kattia Solano, hair stylist at NYC's Butterfly Studio Salon, who showed us how to recreate this gorgeous faux French twist in the Butterfly Studio tutorial room (open to the public in Spring 2014).
Step 1: For a full look, start with texture. Those with fine straight hair can add movement with a curling iron, creating loose ringlets on two-inch sections of hair. Then spray each two-inch section with Oribe Texturizing Spray ($39, oribe.com) to build height. For thicker hair, curling isn't required.
"This style is best on dirty hair or with some texture," says Solano. "You want to exaggerate as much volume as possible to fake a French twist."
Step 2: Backcomb each section of hair, holding each piece at the ends between the fingers. By holding the tip, the comb is able to hit the sides as well as tease straight up.
Step 3: Lightly comb the hair out with fingers or a thin comb.
Step 4: Place the headband over the head, leaving it along the neck like a necklace. (Solana used the L. Erickson Rock Goddess Headwrap, $86) Start to stretch out the headband, placing it directly on the hairline. Then pull each chain back individually. The sleekness at the hairline creates a strong contrast to the hair's height.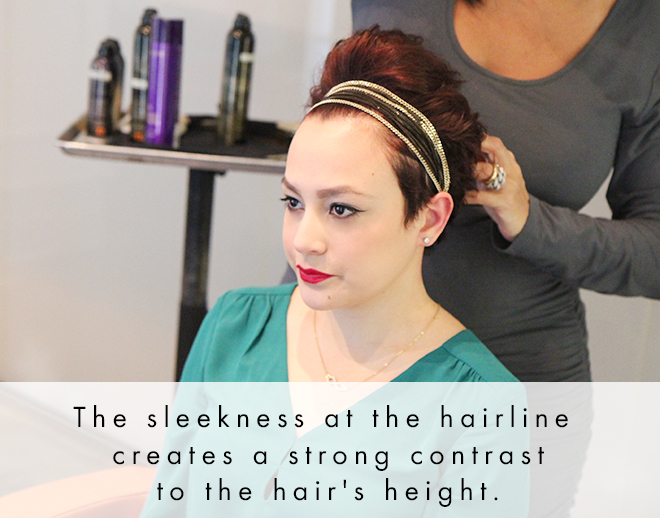 Step 5: Use Oribe Superfine Hairspray ($29, oribe.com) on the sides of hair (just below the ears) to make them super sleek. The sleeker the sides, the more exaggerated the "faux French twist."