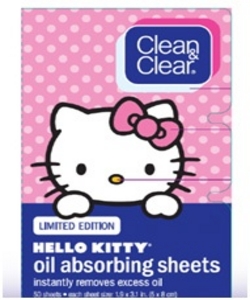 Why do we bother with beauty? We want to feel pretty, sometimes cute. Maybe we want to feel exotic, even international. And if you're anything like me, you imagine inspiring a legion of followers into mass hysteria while applying your morning lip gloss. So it's no wonder that Hello Kitty is invading the beauty market, because she's had all of that going for her since 1976.
The adorable Japanese cartoon now has her own limited edition package of Clean and Clear's best selling oil-absorbing sheets. I managed to swipe a sample at a recent press event, and it's quickly become my new handbag must-have. The sheets still grab excess oil without smudging any makeup, and are now covered in pink polka dots and a Hello Kitty animation. There's never been a cute way to wipe gunk off your face until now. The limited edition product won't hit shelves until February, but are definitely worth the wait.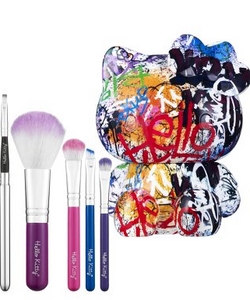 An edgier, but equally fabulous, Hello Kitty is available now at Sephora. The line of makeup and accessories designed for the glam anime lover includes brush sets, holiday palettes, and perfumes. My personal favorite: a 5-piece brush set that comes inside of a graffiti Hello Kitty brush holder. It's street art meets Russian Matryoshka dolls, and it's only $25.
The line also includes cheapies like $8 nail art stickers and $10 shimmer polish for this season's eccentric manicure trend.