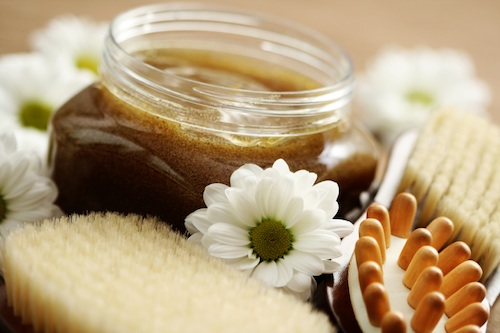 A wise (albeit masochistic) person once said that pain means beauty. I believe that this person must have been a woman who had been standing around for hours in a pair of sky-high heels that were as painfully beautiful as they were, well, painful. The discomfort one experiences while wearing killer shoes is a feeling that Im all too familiar with, but at 50 tall (and the owner of an extensive heel collection and obsession), I have no near-future plans to part with my favorite sole mates.
For those of you who are equally as resistant to retiring your tallest but still looking for a little relief, try your hand or rather, feet at these rejuvenating treats!
Make an exfoliating mask for your feet.
Place cup raw sugar, fresh coffee grinds, a drop of vanilla, a drop of honey, and a couple of drops of olive oil in a bowl and fold together (hint: dont mix too much you want to keep the rough texture). Sitting on the side of the tub, apply to and massage in the mixture one foot at a time. Remove with warm water.
Get Fit Feet With Yoga Toes
I swear by these therapeutic toe-separators it literally is like yoga for your feet! After 10 minutes of wearing them while keeping feet elevated, Yoga Toes alleviate any stiletto-induced toe pain. Slip on a pair when you get home from teetering around to increase flexibility and circulation in feet. What could be better than something that does the stretching for you? (Original YogaToes, $39.95, at Amazon.com )
Double Dip: Combination Hot and Cold Footbaths
To help restore feet after a long day of being on yours, New York-based podiatrist Dr. Mandanipour of Manhattans Progressive Foot Care suggests that you soak feet in a bucket of warm water for 5-10 minutes followed by a soak in a bucket of ice cold water for another 5-10 minutes. The heat from the warm water will dilate the blood vessels and restore blood flow to the feet, and the ice bath will then reduce any residual swelling. (HoMedics Jet Spa Jet Action Footbath, $29.69, Kmart.com)
Bring The Spa To You
After hours of standing or walking around, the last thing you want to do is take your tired soles to the salon. For at-home foot relaxation, indulge in this luxurious take on the footbath from skincare specialist Eileen Harcourt: for tired, aching, burning feet, place a drop of tea tree oil, a drop of peppermint oil, and about cup of Epsom salts into a cool low tub of water. Soak feet for 10 minutes.
Bliss Out With Bliss Softening Socks.
Aside from keeping feet toasty, these heel helpers will hydrate and soften hard calloused feet in just 20 minutes. A special polymer gel lining inside the socks envelops dry skin and, when activated by body heat, force-feeds moisture that treats rough and dry feet. One pair lasts for up to 50 uses. (Bliss softening socks, $48, at Blissworld.com)
Get Fitted For Orthotics
On average, these customized inserts will cost you as much as a pair of designer shoes (about $500 in Manhattan), however investing in orthotics will ultimately help save both your feet and the money youll undoubtedly have to spend replacing your higher heels with lower ones if youre experiencing severe and persistent foot pain. While there are more wallet-friendly versions like those by Dr. Scholls, the most effective orthotics are those fit to your specific foot and shoe by a podiatrist. Dr. Mandanipour says that most people can get away with having one pair made, but you can get a set customized for every heel height from flats to dressy if you so desire! To schedule an appointment with Dr. Mandanipour or one of his associates, call 212-643-3668