If there's one thing we love, it's perusing smoothie recipes on Pinterest. With so many different variations, we can never get bored. But do we? In an ideal world, we'd enjoy a new concoction every morning. But who has the time and money for all those ingredients? Rebecca Sadek, the co-founder of Urban Detox Club, made it simple for us with eight ingredients that can be mix and matched for five nutritious recipes to start off our mornings right. May we never tire of a smoothie recipe again.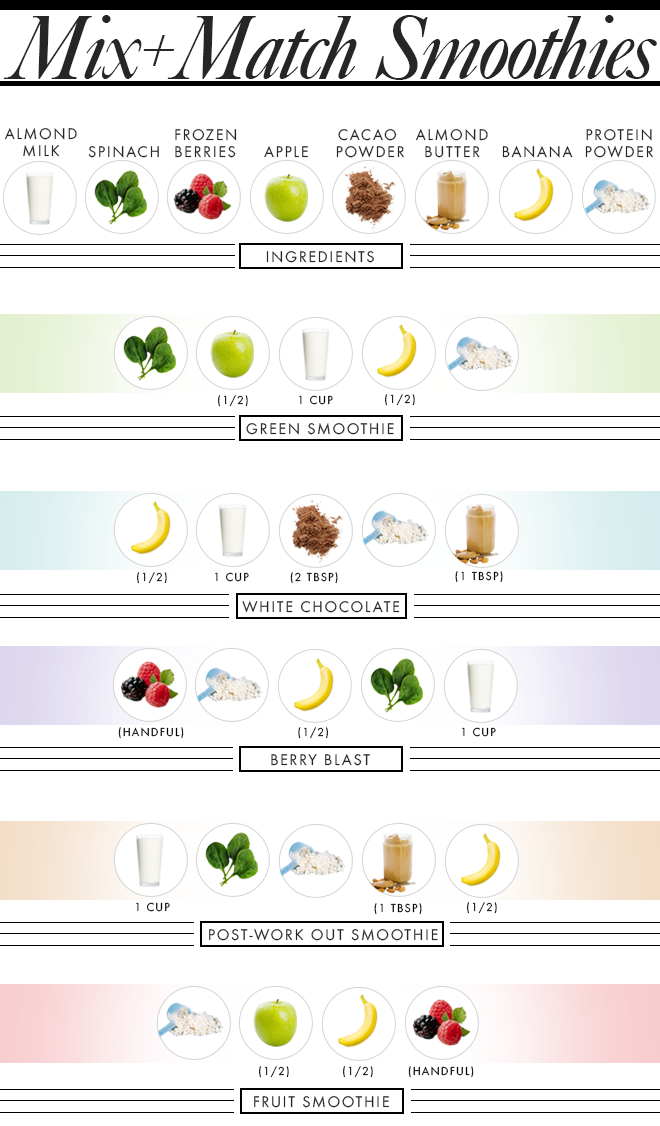 The List:
Green apple
Spinach
Almond milk
Frozen berries
Banana
Almond butter
Cacao powder ($9.99, navitasnaturals.com)
Vanilla Shaklee 180 Protein Powder ($48, sadekwellness.myshaklee.com)
Green Smoothie
"Great way to get your greens and protein in for breakfast!" says Sadek. "Five to seven servings of vegetables per day is recommended at the very least, so you should be packing them into every meal. Many people complain that breakfast is the hardest meal to get your greens in. Not anymore!"
Ingredients
Spinach
1/2 green apple
1 cup almond milk
1/2 banana
Vanilla Shaklee 180 Powder
White Chocolate
"Cacao is delicious and also has tremendous nutritional benefits. It is great for your heart!" A healthier alternative to cocoa powder, it's a source of fiber, magnesium and iron, without packing in the fat.
Ingredients:
1/2 banana
1 cup almond milk
Cacao powder (2 tbsp)
Almond butter (1 Tbsp)
Vanilla Shaklee 180 Powder
Berry Blast
"Berries are loaded with antioxidants and great for keeping yourself looking and feeling young. This is also a great way to get extra greens in your diet and you won't even taste the spinach!"
Ingredients:
Frozen berries (handful)
1 cup almond milk
1/2 banana
Spinach
Vanilla Shaklee 180 powder
Post Work-out Smoothie
"Bananas are loaded with potassium which is great for muscle recovery after a tough work-out. You can find 24 grams of protein in Shaklee 180 protein powder not including the extra protein and healthy fats found in almond butter. This will keep you full for hours while also helping your muscle recover."
Ingredients:
1 cup almond milk
Spinach
Almond butter (1 Tablespoon)
1/2 banana
Vanilla Shaklee 180 protein powder
Fruit Smoothie
"Green apples and berries are both fabulous low sugar fruit choices. This is a great way to beat sugar cravings without sacrificing your health."
Ingredients:
1/2 green apple
Frozen berries (handful)
1/2 banana
Vanilla Shaklee 180 protein powder