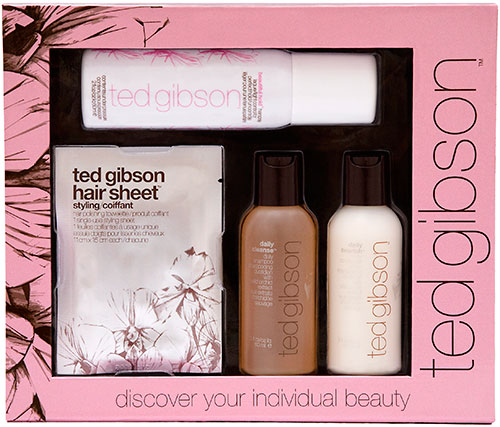 World traveling Gibson Girls, I have an answer to all your packing problems!!! I just launched and AMAZING travel essential kit called Get Set To Jet Set. It has some of my most coveted beauty haircare items for your traveling pleasure: Hairsheet Styling, Beautiful Hold Hairspray, Daily Cleanse Shampoo and Daily Nourish Conditioner. They all come in convenient travel-size bottles and a lovely pink box that you can use over and over again after you have finished all the products.
I travel quite a bit for work. I go to Ft Lauderdale for vacation (soon I'll have a salon there, but I'll tell you more about that later), Isle de France in St Barths, The Ritz Carlton in Cayman Islands, and Strawberry Hill in Jamaica. From November till February, I do fashion shoots in some of these places too. Talk about having a great time! Some of the photographers that I work with are Anne Leibovitz, Patrick Demarchelier, Gilles Bensimon, Joshua Jordan, Diego Uchitel and Mark Seliger. What a life. Travel on someone else's dime…not a bad deal at all.
My darlings, tell me about some of the most fabulous places that you have been to. I am always interested in other peoples travels and adventures. Tell me all.
As always, remember Beauty Is Individual.
As a celebrity hairstylist, I often receive samples of new products directly from beauty brands to test out. Any product I mention in this blog is one that I've tested out myself, in accordance with Daily Makeover's Editorial Ethics Pledge.