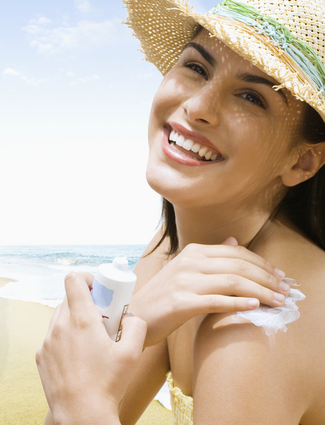 Photos: © Jose Luis Pelaez/ Getty Images
Ever heard of Thirsty Thursday? Well now there's a cute name (100% more practical) for Friday, too. Ladies and gentleman, get ready to celebrate "Don't Fry Friday."
We have The National Council on Skin Cancer Prevention to thank for this adorable name, as they have designated the Friday before Memorial Day, Don't Fry Day. The idea is to encourage people to enjoy the outdoors without getting too much sun exposure this holiday, or any other day for that matter. And since melanoma is the fastest growing cancer in America, we really like this message.
The Cancer You Know Almost Nothing About
Ever since the infamous Tanorexic Mom, Patricia Krentcil, went way overboard on the sunbathing, the danger of sun exposure has become a hot topic of conversation. So much information seems to be swirling around the Internet; it's hard to keep track of what we need to know about skin cancer. So, in honor of Don't Fry Friday, here's what The Council is telling us to keep in mind:
The sun's rays can go through light, clothing, windshields, windows, and clouds. Unless indoors away from windows, you are getting exposed to sun.
"There is no such thing as a healthy baseline tan" according to Dr. Shamban, the resident dermatologist on The Doctors and author of Heal Your Skin.
Use a broad spectrum sunscreen with a sun protection factor (SPF) of at least 30.
Apply two coats of sunscreen to uncovered skin 30 minutes before going outside, and apply again every two hours or after swimming or sweating.
Wear a hat with a wide brim (five inches is preferable) all around that shades your face, neck, and ears and wear UV protective sunglasses.

What You Really Need To Know About Sunscreen

What are some of your favorite sun protecting products?