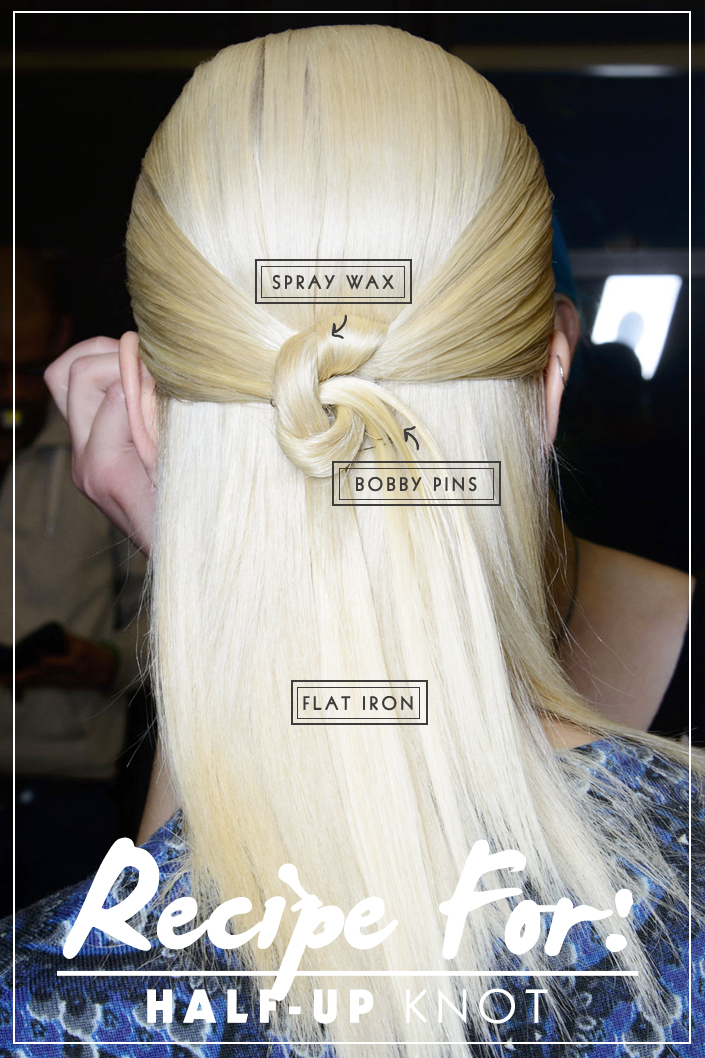 Throwing your hair into a half-up bun or ponytail is a quick and easy way to look sweet, cool and perfectly put together. Why not take it one step further and turn that bun or ponytail into a knot? It may look difficult to do, but achieving the look is quite simple.
To prove you just how easy the half-up knot truly is, we put together a little beauty recipe that consists of just three ingredients! Read on to discover how the half-up knot isn't as tough as you think.
MORE: Learn How to DIY a Half-Up Fishtail Braid
Flat Iron: To achieve that sleek and straight hair, it's all about the flat iron. Start by smoothing out your locks to your desired sleek factor with a straightener. This particular look is totally slicked back in the front, but if you prefer a part, take a tail comb and create your middle or side part.
Spray Wax: Next, take your spray wax and spray a brush to comb back the hair and tame any flyaways. The look is very zen-inspired, so the slicker and cleaner looking, the better. Once your knot is done, you can spray a bit of the wax onto your fingers to really hold it together.
Bobby Pins: And now, time for the knot. Gather the two front sections of your hair and tie them together in the back the way you would tie any other knot. One over the other, loop, and pull tight (just in case you forgot). Now that you have a single knot, take the two ends of your hair that you just created the first knot with and form another knot on top of the first. Feel free to twist the hair to get it looking the way you want. When you're ready, place a bobby pin through the knots to hold them in place. Placing a bobby pin to the left and right of the original knot as well as below the second knot will give you optimum hold.
Image via Imaxtree