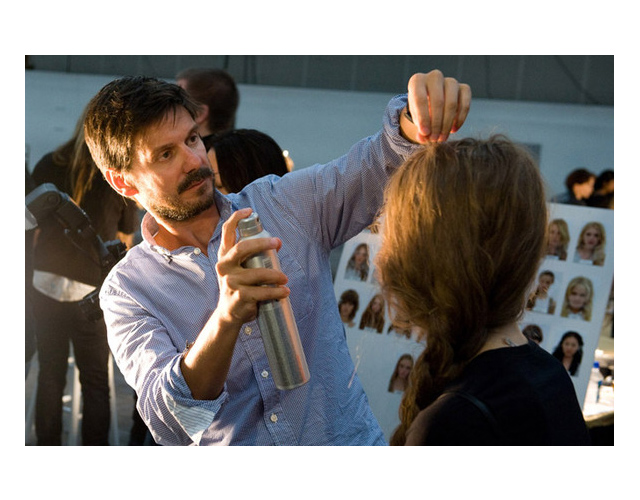 Hairstylist Guido Palau is as much of a staple backstage at fashion week as the models or the racks of clothing. Doing an average of 30 shows each season, the Brit-born stylist has created some of the most well-known runway trends such as the famous Alexander Wang side braid and the super-sleek ponytails we've been repeatedly seeing the last few seasons.
We chatted with him about all of the trends he recently created (and saw transform before his eyes) on the Spring 2012 runways in September during fashion week last night, and he summed them up into two major categories: a return to minimalism, and a nod to the '60s. "The overriding feeling from working with the designers was that they wanted an ease with working with the hair." While we're certainly not ready to start wearing spring trends just yet, Palau is full of some of the best hair knowledge in the business – below are his five best tips.
Simplicity is okay, and that is a look in itself.
Palau noted that"Subtleties made up a bigger part of the picture in beauty this season." The style doesn't necessarily have to be a difficult thing to do – it could just be a simple, deep side part and can still be a "look."
High fashion is obviously not what everyone will wear – but it is the way to put out the trends, if you want to keep your look, keep it. 
Palau knows that only a small percentage of us will actually try a trend each season, but they're there for inspiration. If curly girls don't want to try this super sleek and simple new style, don't. Stick to what works for you.
Hair products are almost being used like cosmetics. We change our hair textures now (matte, shiny, soft or hard) using various products.
Find what products work for you by experimenting with them – and don't be afraid to test new ones. Obviously, this may take playing with products on a weekend (and then washing your hair) but it's the only way to learn how they work and what works best for your styles. Palau's backstage essentials during Fashion Week were: The Style Connection range (Redken Quick Tease, Powder Refresh, Powder Grip), Hairspray, Shine Spray (Shine Flash), Duo Shield (blow dry product for fine hair)
Figure out what you want to achieve with your hair and from your hair products before you ask your stylist what products you need.
This will help your stylists give you the correct advice and the correct product "diagnosis" for your hair in order to get you the style that you really want!
Don't be afraid to use hairspray.
Yes, it can be sticky and overwhelming, but find a medium-hold hairspray to start with and spray it into your hands and then run your hands through your hair to smooth down the frizz. You need a bit of hairspray for any updo you are trying to achieve, so just start lightly with the spray.
[Image via Redken]