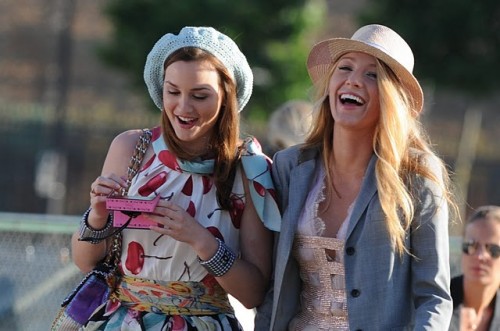 Who doesn't want to look like Serena or Blair? Shiny locks and perfect waves, these Upper East Side ladies are the epitome of perfect hair and now we finally know their secrets.
Gossip Girl's lead stylists Jennifer Johnson and Liz Davilla spilled the secrets to the stars on-set looks to Hollywood Life and told us how to get both of these ladies' iconic looks.
Leighton Meester as Blair Waldorf: Liz sprays the hair with Sally Hershberger Plump Up Collagen Thickening Mist and blows it out. Then, Liz uses a 1″ iron to wave Leighton's hair in different directions. She finishes the look by breaking up the curls with her fingers to give it a more modern style.
Blake Lively as Serena Van Der Woodsen: The stylists start by using Sally Hershberger Professional Haircare Supreme Lift. "I love the Supreme Lift because you don't need a lot of product and it gives the hair a lot of lift and volume," said Jennifer. Then she blow dries Blake's hair upwards and away from the roots with a round brush. "Wrap 1-inch sections of hair around your finger and clip it up. When you take it out, you'll get a more piece-y style."
Image via cwtv.com