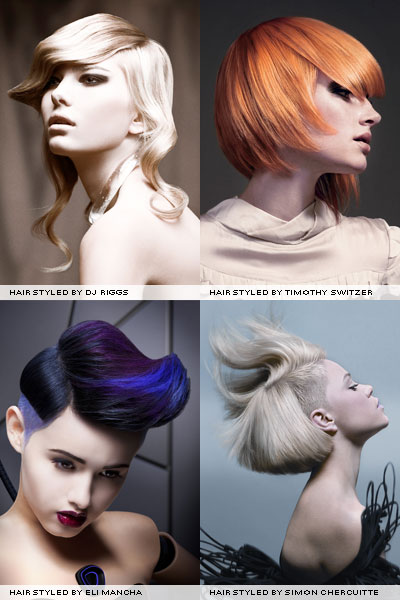 The North American Hairstyling Awards (NAHA's) are literally days away! We're so excited to see which talented stylists, colorists and makeup artists are going to take home the top prizes.
We've already spoken to the Master Hairstylist, Haircolor and Makeup nominees; now it's time to hear from the pros in the Contemporary Classic category.
Trends are all well and good, but when it comes to creating a truly timeless hairstyle, it's all about knowing how to make a woman look and feel her best. These hair gurus can take a classic cut and modernize it, so that it best showcases the girl wearing it. We asked these mane maestros to tell us which hairstyles they thought would always be in style. Here's what they had to say:
Timothy Switzer, Timothy & Co. Salon, Oshawa, Ontario
"The haircut that is my favorite of all time would definitely be the bob.Throughout the ages, even with different cutting techniques, the bob always exudes elegance and style. Always trendy, never dull and can be worn by many."
DJ Riggs, TIGI
"My take would be the Gibson Girl Bob from the Roaring 20s. Josephine Baker, Coco Chanel, Clara Bow; they all sported variations of this look and made it the trend to be a "flapper." Still today you can find a range of artists, actresses, and hipsters paying homage to this versatile look."
Dimitrios Tsioumas, Mizu, New York, NY
"One style that seems to be always current is a bob. It can work on many faces because there are many different kinds of bobs. It's classic, simple and always makes a statement."
Eli Mancha, Bang! Salon, Chicago, IL
"In my opinion the most timeless hairstyle would be the mullet. Not only because of the modified versions we have seen throughout history, in every era, but also because that is the only shape that our hairline naturally grows into. I am sure some will dispute that the mullet is always in style, because not everyone finds the look appealing and not all mullets are fashionable. But you can't argue that they are not timeless. They have evolved from prehistoric unkempt looks to the very stylishly sculpted Euro-mullet."
Simon Chercuitte, Saco, Montreal, Quebec
"The best timeless hairstyle would have to be the bob. From Cleopatra to Vidal Sassoon and even futuristic movies, it has always been an inspiration and has influenced some of the best hairstylists in the world."


Try on hairstyles in the Makeover Studio!
To find out more about NAHA, visit probeauty.org. NAHA is produced by the Professional Beauty Association (PBA) and will take place on Sunday, July 31, at the Mandalay Bay Resort in Las Vegas.