Life is too short (and, let's face it, too busy) to fixate on each season's fleeting trends—we'd rather focus on the looks that we think are here to stay. That said, it's difficult to resist dabbling in the season's hottest styles, especially when they're stylish riffs on looks with which we're already familiar. Take, for example, this season's center part hairstyles—certainly not revolutionary, but the fall takes on the look we love feel fresh and dramatic.
Here are five hair trends for fall 2014 that aren't necessarily "trendy"—they've got the kind of staying power that makes them worth mastering. In case you needed more convincing, they're also incredibly simple!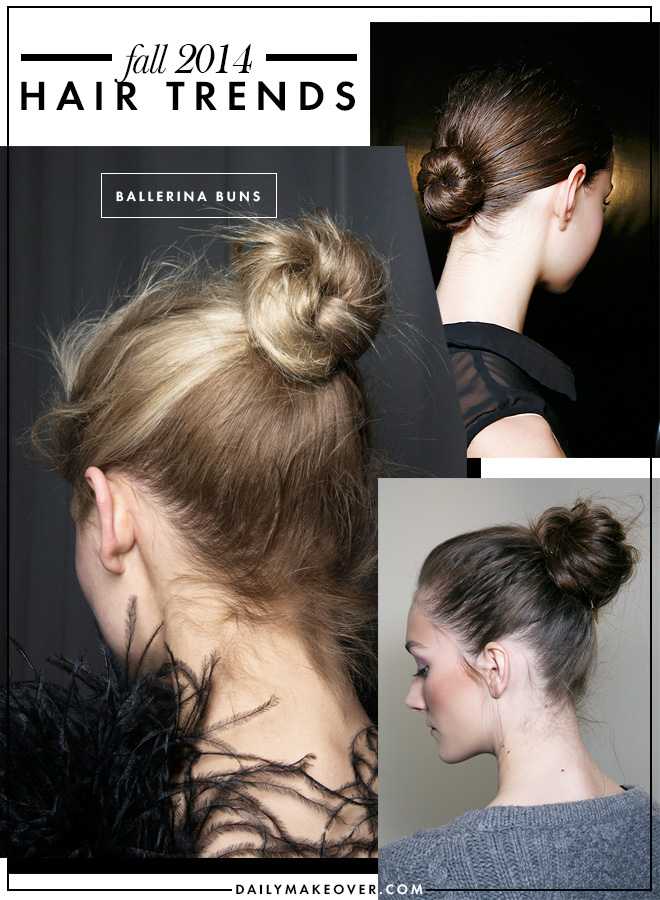 Ballerina Buns
We hesitate to refer to the ballerina bun as a trend, since this versatile look isn't going anywhere. On the runway, this season's buns varied from high and tight to low (toward the nape of the neck) and slightly slicked back. For the girl on the go, the ballerina bun is a life saver—it looks just as polished on second-day hair as it does on still-damp, freshly-washed strands. If you have somewhere to be in 15 minutes and you've just stepped out of the shower, try raking back your hair with your fingers and twisting the lengths before securing with a hairband. If you've got a bit of texture to work with, spritz dry shampoo at the roots before you put it up for a messier effect that still looks chic and deliberate, even if you really didn't try all that hard.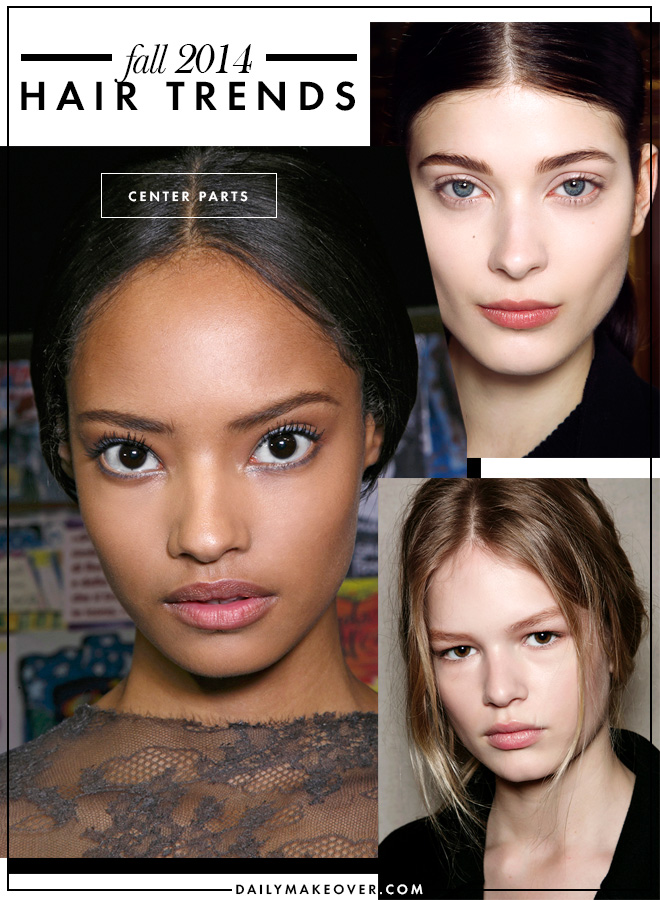 Center Parts
If you've ever had a hairstylist tell you that center parts are only for those with perfectly symmetrical features (and haven't we all?), then you'll know just how intimidating the style may seem. Think again: The secret to this fall's center part is not perfect symmetry, but rather a slightly off-center, imperfect vibe. Admittedly, the look works best on those who have hair that's all one length, or long layers in the front as opposed to those who have shorter bangs, but keep in mind that the key is to err ever so slightly onto one side. The resulting look can range anywhere from super sleek to tousled and slightly grunge-inspired.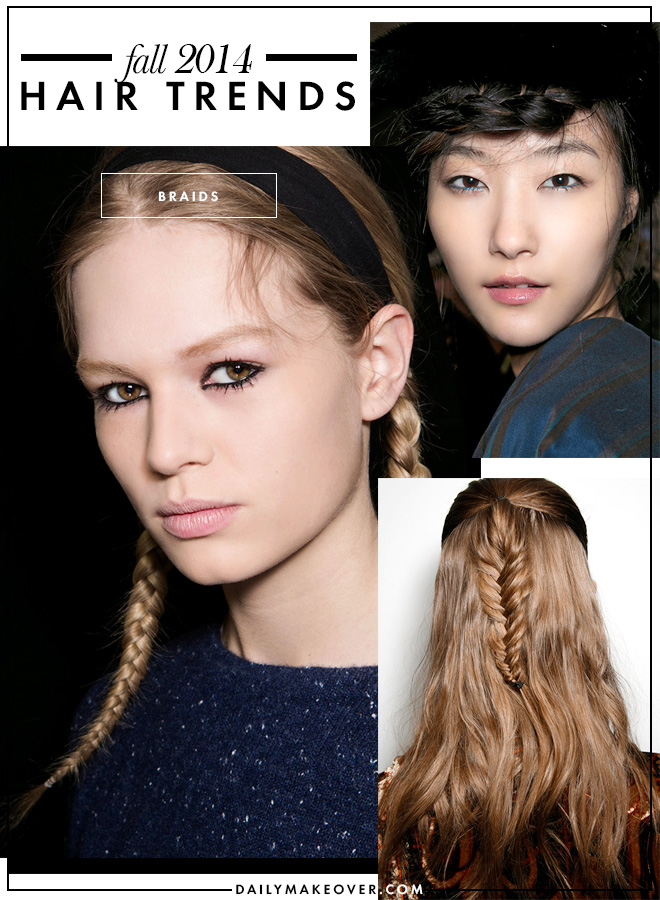 Braids
There is no situation (that we're aware of) in which a great braid seems inappropriate. This season's braided styles take all manner of forms, from a mussed-up schoolgirl plait to an easier-said-than-done front braid. If you're looking to get in on the trend, you simply cannot go wrong with one single classic braid down the back of your head. If you want to get more adventurous—and of course you do, every once in a while!—try refashioning the standard half-up ponytail by integrating a fishtail into the top portion. The look is fresh and unexpected, but it's still subtle enough to work perfectly for any and all occasions … or lack thereof.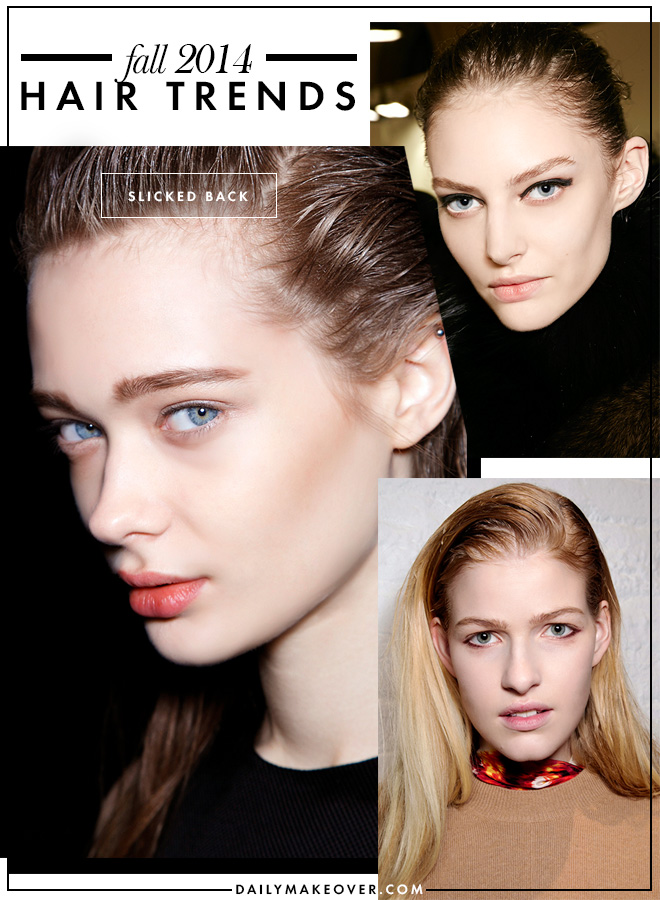 Slicked Back
Only the world of the runway could make damp, slicked-back hair look chic—and it's certainly been a boon for those of us looking to spend (a lot) less time on our hair. This fall's slicked back hair trend is made chic by its context—which is to say that it's a greasy, slick-looking front, offset by dry, styled lengths. To get the look right, work a dab of gel into the front sections of your hair closest to your hairline and tuck the slick strands behind your ears for a style that doesn't read greasy. Alternatively, you can use gel to slick all your hair back into a—you guessed it—ballerina bun. (Ballet totally optional, of course.)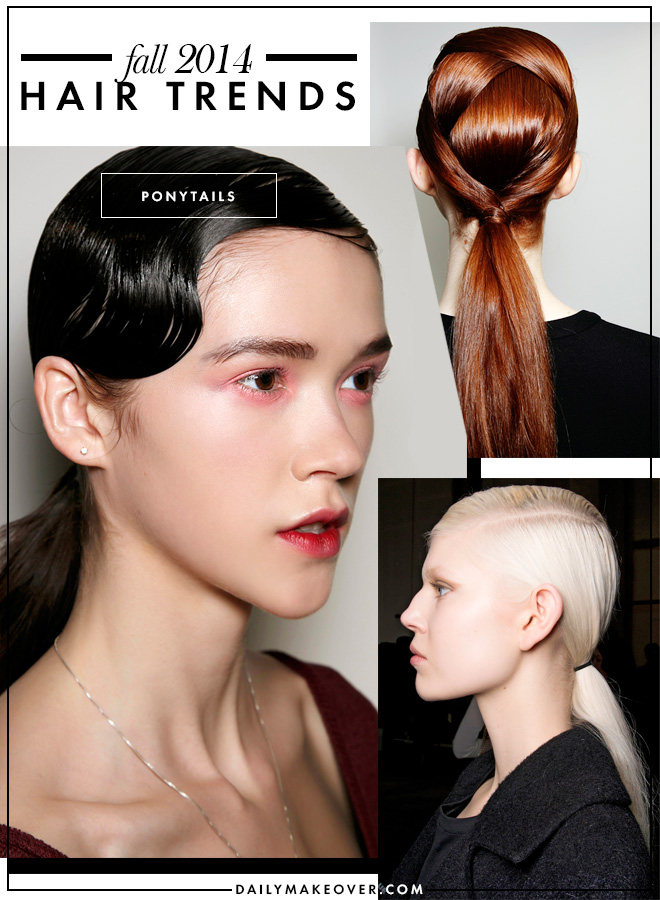 Ponytails
Depending on how it's styled, a simple ponytail can run the gamut from spin class-ready to black tie-appropriate. This season's version is decidedly more dressed up, whether it involves incorporating intricate twists and knots or simply a deep side part, paired with a contrasting hair tie. To ensure that your take on a ponytail looks stylish—rather than, say, like you just hopped off a bike—smooth a dab of shine serum into your lengths and ends before pulling the whole thing back into a low-slung pony. To really kick it up a notch, take a small section and wrap it around the base of the ponytail, then pin to conceal your handiwork.
Read more: 20 Things You Absolutely Must Master for Fall 2014