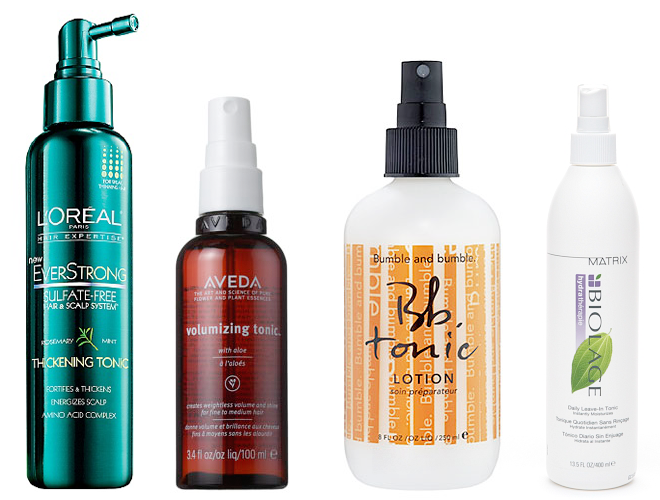 With new products constantly hitting shelves at stores and salons, it's hard to know exactly what makes one different from the hundreds of other bottles all promising better-looking hair. One particular product that has left me a little confused is hair tonic. What is a tonic exactly, and what does it do? I spoke to Aveda North American Styling Director Allen Ruiz to see if tonic is something I should actually be adding to my hair care routine.
What is hair tonic?
"Hair and face tonics have been around for centuries," says Allen. "Hair tonics are different from other hairstyling products in that they are always in liquid form." These liquid products are used to add volume to the hair.
Who should use it?
While gels and mousses have largely replaced tonics in most consumers' routines (because they give a stronger hold), Allen says tonics are better for those with fine hair. "The Aveda Volumizing Tonic ($17, aveda.com) creates maximum volume with a wheat amino acid and certified organic aloe formula that helps build body and add shine."
Another hair type that can benefit from a hair tonic is dry hair. Tonics can help moisturize the hair, preventing split ends and dullness.
How are tonics used?
To use a hair tonic, wash hair first, apply the tonic, and then style as you normally would. For best results, Allen suggests, rough-drying hair using a blow dryer and your fingers until it is about 80 percent dry. Lift sections of hair and spray your tonic near the scalp area, then use a round brush, blow dryer and hands to further enhance volume.
Other hair tonics to try:
1. Biolage by Matrix Daily Leave-In Tonic ($16.20, drugstore.com)
This treatment moisturizes hair with kelp, hops, sweet almond and light conditioning agents. It also contains sunscreen to help protect hair against UV and environmental damage.
2. L'Oréal EverStrong Thickening Tonic ($8.99, drugstore.com)
Aside from helping style the hair, this tonic also helps hair become stronger and thicker. The rosemary mint formula is meant to be sprayed on the roots to promote growth at the scalp.
3. Bumble and Bumble BB Tonic ($20, bumbleandbumble.com)
This product helps to reactivate the other products that might be in your hair with a blend of herbs, vitamins and tea tree oil. For those with difficult tangles, this spray helps make hair easier to brush and style.