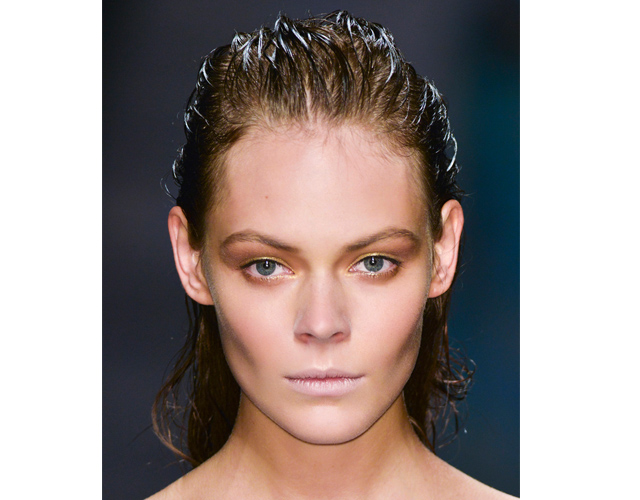 Honestly, it's too hot to even function outside right now, so the concept of adding a hair dryer to any sort of beauty strategy has us running for the hills. No, we're thinking sleek, easy, runway-inspired glamour that's super easy and cool in every way possible: the wet look.
The thing is, there are a few things you need to know about dealing with your hair wet, no matter what the style, not to mention there are some secrets to achieving this super-editorial hairstyle so that it maintains the wet look without drying frizzy or looking stiff.
This is where experts like celebrity hairstylist Mark Townsend come in. Let's let the master of all things sleek hair give you some dos and don'ts for styling wet hair, and getting the wet look:
Don't: Wait until you get out of the shower to start styling your hair. The condition of your hair and the quality of the style starts in the shower. I'd advise using Dove Intensive Repair Conditioner in the shower. It's super nourishing and the silicones will smooth the cuticle down, which can help fight against frizz and give you a smooth, even look.
Do: Wait a minute to apply styling products after washing your hair. If your hair is soaking wet, wait until it's a little more dry to use anti-frizz serums and/or styling oils like Dove Nourishing Oil Care Anti-Frizz Serum so they can penetrate into the hair shaft. Hair absorbs better when it's slightly dry.
Don't: rough your hair with a towel. Hair is more susceptible to breakage when it's wet.When your hair is soaked, the weight of the water has pushed the cuticle closed and as it dries, it opens. Cotton towels, especially the 'towel turban' (where you twist your hair into the towel over your head,) literally rips the hair cuticle open, leaving split and broken ends and tangles galore.
Do: Dry your hair with a towel shammy. It's much more gentle, and all good styles start with how you treat your hair from the beginning.
Don't: Just start combing straight through wet hair.  If you start at the root, you're just pushing all the tangles to the bottom.
Do: Detangle from ends to roots. Start combing in small sections from the bottom, working upward toward your roots for hair with no tangles and, best of all, no damage.
Bonus Round! How to  get the wet look!
Do: Start with your hair practically dry. It's better if your hair is almost dry. The interesting trick is to make the hair look wet all day, which means that you have to use products that will help achieve that sleek shine and molded style for a length of time longer than when your hair would actually hold moisture (plus, you want it to dry pretty.)
Do: Mix it up! For a recent photo shoot, I waited until the model's hair was about 30% dry, then I mixed a good amount of Dove Nourishing Oil Care Anti-Frizz Serum with coconut oil straight out of the jar into my hands and worked it all the way through her hair.The coconut oil gives it a good sleek base with plenty of healthy nourishment, while the anti-frizz serum (which also nourishes) contains silicones ensure the hair will stay sleek. The mixture of the two together helps give your hairstyle an even, smooth, wet look that will last throughout the day. Then,  you can go anywhere you want with the style: chignons, braids.  Gels and "wet products" dry uneven and look matte as they dry throughout the day.
More Pro Hair Tricks From Beauty High:
Celebrity Hairstylist Teaches Us That Braids Are the Best Way to Beat Frizz
15 Hair Ideas That You Need to Try This Summer
How To Find a Hairstyle For Your Face Shape
Image via Imaxtree