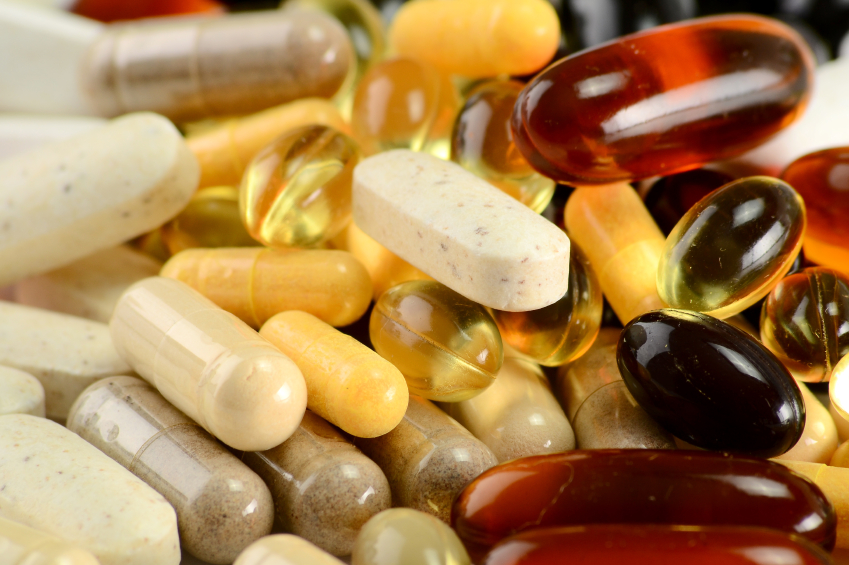 We're sure we're not alone in wishing for a pill that'll magically make our skin, hair and nails look picture perfect. Even though that (sadly!) doesn't exist, there are certain supplements that can help boost your beauty routine—though it's definitely better to get your nutrients from food sources, says Jessica Wu, MD, Los Angeles-based dermatologist and author of Feed Your Face.
Here, get the skinny on what supplements can make your hair thicker, your nails stronger, your skin more radiant and more. Just remember that it's best to check with your doctor before you start adding supplements to your diet.
Fish Oil for Clearer Skin
The omega-3 fatty acids in fish oil supplements are a natural anti-inflammatory—meaning that they can help calm broken out skin, says Wu. Plus, they can also decrease a hormone that's associated with both oil production and clogged pores, two culprits behind unsightly spots. Wu recommends taking one to two teaspoons of a liquid fish oil supplement, which your stomach absorbs better than pills, in the morning, 10 minutes before eating breakfast.
Bonus: Not only have fish oil supplements been linked to clearer skin, but they've also been shown to help replenish your skin's moisture—perfect if you have eczema or tend to be extremely dry, says Wu. You'll look more radiant thanks to the natural oils found in the supplements.
Iron for More Luxurious Locks
"Iron deficiency is one of the most common causes of thinning hair in otherwise healthy women," says Wu. It's no wonder, really, considering we lose iron every time we get our period (thanks, Mother Nature!). To keep your hair thick, strong, and healthy, try to eat more iron-rich foods like leafy green vegetables, and consider taking an iron supplement or a multivitamin that contains iron, suggests Wu.
Biotin for Stronger Nails
If your nails are constantly breaking and flaking, considering adding a biotin supplement to your diet. It'll help you grow healthier nails (and hair), and will keep dry, brittle nails from ruining your next manicure.
Lycopene for Sun Protection
"There are lots of studies on how eating tomatoes can help you fight sunburn and sun damage," says Wu. "We think that that may be because tomatoes have a high level of lycopene antioxidant, and you can get lycopene supplements." Just remember that filling up on lycopene doesn't mean you can skip slathering on sunscreen!
Probiotics for A Healthier Scalp
If you suffer from embarrassing, itchy dandruff, you might want to consider taking a probiotic supplement. Some evidence shows that these supplements can help soothe and balance a scaly scalp, says Wu.
Image via Istock
More From Beauty High:
An Expert's Guide to Which Vitamins and Supplements Will Make Your Hair and Nails Grow Faster
How to Make Your Hair Grow Faster
10 Tips For a Long Lasting Manicure