You may have heard that I'm in the process of going blond. In case you're new to Dailymakeover.com and These Lips Are Made For Glossin' click here to catch up on my blond transformation.
After every appointment, my fabulous stylist Joe always says to me in a very serious tone, "You need to hydrate your hair Lisa. I cannot stress this enough. If you don't hydrate your hair it will break."
Not wanting to resort to a wig, I began the hunt for a leave-in conditioning treatment
I wanted to use a product that I could apply at night before going to bed. That way I could just sleep on it and wash it out in the morning. Enter John Frieda's Frizz-ease Creme Serum Overnight Repair Formula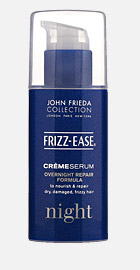 During one of my mass-market shopping sprees I came across this and honestly kind of bought it on a whim. It was on sale and I figured I'd give it a try. That night I removed the bottle from the packaging and pumped the serum into my hands. The first thing I noticed was how amazing it smells. The second thing I noticed was how easily it glided through my piles of hair. It felt like it was melting into my locks.
I went to bed, woke up the next morning to wash my hair and after applying all of my product (Livingproof No Frizz, Moroccan Oil) and blow drying my hair felt great! Totally smooth and frizz free. Not one strand felt processed.
Frizz-ease runs about $9.99 and you can pick it up at your local CVS!