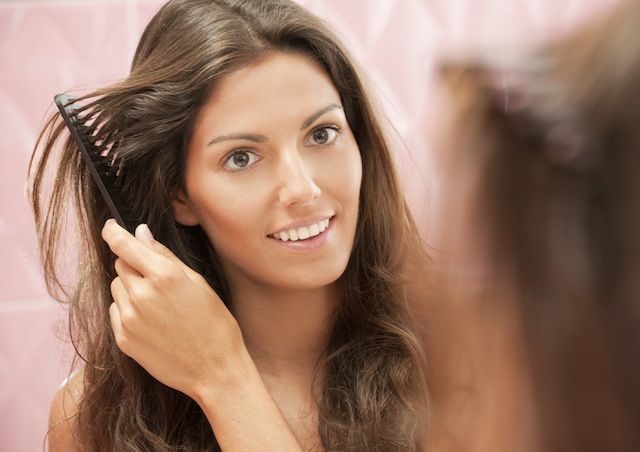 There's nothing girls love more than sharing secret strand growing tips. Are we right, or are we right? After boys, career, and fashion, the convo usually turns towards hair 9 times out of 10. How to make your hair fuller, less frizzy, longer, stronger, blonder, darker—you name it. For tresses that are technically challenged in the "why aren't you down to my waist yet?!" department, there are several products, vitamins, and procedures to consider, but which ones really make a difference? We asked that very question to Clear Scalp & Hair Dermatologist, Dr. Francesca Fusco, who shared with us some of the wackiest DIY treatments she's ever heard. Get ready to be weirded out, then get ready to hear what actually works.
Beauty High: What are the top 5 weirdest things you've heard women do to grow their hair faster?

Dr. Fusco:
Applying vodka to the scalp.
Applying mouthwash to the scalp
Applying yeast infection cream to the scalp.
Decreasing the frequency of shampooing.
Ingesting large amounts of Jello or gelatin.
BH: Which of these "alternative treatments" might actually work and which are just absurd?

Dr. Fusco: I can't possibly hypothesize a way where vodka or mouthwash would work to make the hair grow faster, but if an individual had a scalp yeast infection overgrowth, that type of cream might help, but I'd prefer they use a formulation made specifically for the scalp. As for decreasing shampooing, I can't justify this. Also, if an individual is protein deficient and the gelatin they're ingesting is protein-rich, it can help, but you must look for a protein-rich gelatin.
BH: How can you take care of your hair better with products?
Dr. Fusco: Regular conditioning after shampooing is a must. A conditioning mask once a week, like Clear Scalp & Hair Intense Hydration Deep Treatment Mask will increase resiliency, so hair and scalp stand up to daily stresses like hot tools and chemicals.
BH: What's your best advice for women concerned with hair loss or thinning hair?

Dr. Fusco: Please consult with a physician if the hair loss persists for more than a month. If you notice a small (or large) bald spot, go to a physician immediately. The prognosis is better with early intervention. Also, take good care of the hair you have with regular conditioning.
BH: What's the #1 mistake you think women make when it comes to their hair?

Dr. Fusco: The most important thing is to condition the hair AND the scalp. Many women avoid doing this because they worry that it will weigh down their hair. I recommend Clear Scalp & Hair because it is formulated for both the scalp and hair and conditions without weighing down hair—no matter what kind of hair you have or how much hair you have.
Image via Getty/E+