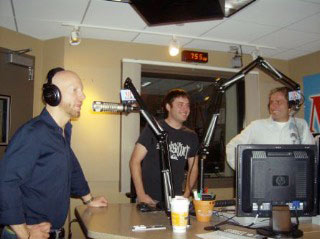 I just returned from an amazing trip to Texas! As part of my job as Clairol Color Director, I get to represent the Clairol brands and have the chance to do cool stuff like this five city media tour I am in the middle of. My first city was Houston and boy oh boy was Houston a blast! Wow, what a whirlwind tour that was. I flew down on Sunday afternoon and came back to New York on Tuesday evening and had a jam packed couple of days working with the local media. I have to tell you – those Texans know how to treat you right!
The first day there I did a radio show for 96.5 Mix FM and used Perfect 10 hair color on the producer John Wahlen – it was hilarious to be live on the radio and coloring this guys hair! He was such a good sport – and a really great guy. Actually, all of the people at the station I met were super. Keith and Michelle are the hosts of the morning show and are HILARIOUS! Michelle has a blog and posted some fun pics from the day.
After I left the station, I had an interview with the beauty editor from The Houston Chronicle while we had a lovely lunch. It's so fun to meet other beauty junkies. This lady Joy Sewing knows her stuff – she is pretty as a picture and sharp as a tack!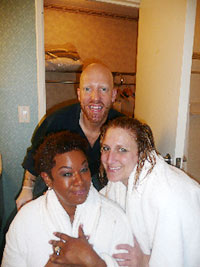 When lunch was finished I went back to the hotel and did Clairol makeovers all day to prepare for my segment on the Great Day Houston show. It was so FUN – even the producer of the show, Sarah Greere, and the host of the show Deborah Duncan stopped by and I got to color their hair with Perfect 10! What a hoot! When it came time to actually do the show I did a live hair color makeover (no pressure right?!?!) I used Perfect 10 on Kaitlin Gangle and I have to say I think the results were spectacular take a peek at the segment here and the big reveal here
Like I said, I had a great time in Houston. As usual Perfect10 performed like a champ! The hair color came out great time and time again – I loved it, what did you think? LMK