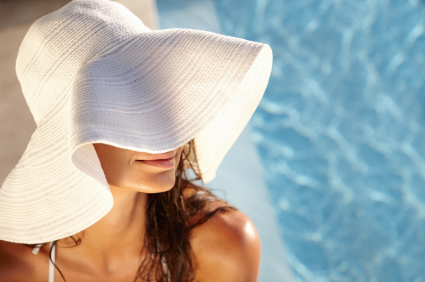 If you dye your hair you've probably stretched out your salon visits to save money at least once and ended up with your color fading. That dull color isn't flattering on anyone and it can be obvious that you're overdo for a salon visit. If you're going on vacation this winter there are some precautions you should take and tips to follow to maintain your gorgeous color while in the sun (or pool). And if you've never dyed your hair but are considering trying out the latest red hues or making the big jump from blonde to brunette, you should read these tips too.
1. Plan your salon visits. Coloring requires maintenance and red requires the most care because it fades the fastest. The first step to maintaining your color is scheduling a salon visit about every six weeks for all-over color and no longer than three months for highlights.
2. Use color-treated hair products. To protect your hue between salon visits, use a shampoo that's designed for color-treated hair. Other shampoos, especially those meant for dandruff, chlorine, volume, will strip your hair of its color faster. Use a sulfate-free shampoo like Alterna Caviar Anti-Aging Moisture Shampoo. Also wait to shampoo about two days after your dye job to prevent the color from seeping out.
3. Check your water. Mineral deposits in old pipes can change your hair color when you're washing in the shower, making it look brassy. Try shampooing less and opting for dry shampoo instead or invest in a water filter for your shower head.
4. Protect before you dip. You probably know that chlorine is bad for your hair, especially if it's colored. You can protect it by covering your strands with olive or jojoba oil before diving into the pool.
5. Prevent fading from sun exposure. Bring a shampoo that has UV protection on your vacation. Use one that protects and also repairs damaged hair like Redken Color Extend Sun After-Sun Shampoo. It also removes minerals, chlorine, and salt from your hair and restores moisture so your color will remain vibrant and shiny.
6. Touch up at home, carefully. If you're on a long vacation or spent all your money on pina coladas and now need to wait until your next paycheck for a salon touch up, you can cover up your roots at home (or resort). Use a spray that will quickly hide your roots without changing your natural color like Rita Hazan Root Concealer. It comes in several colors and stays in until your next shampoo.
[Image via Istock]