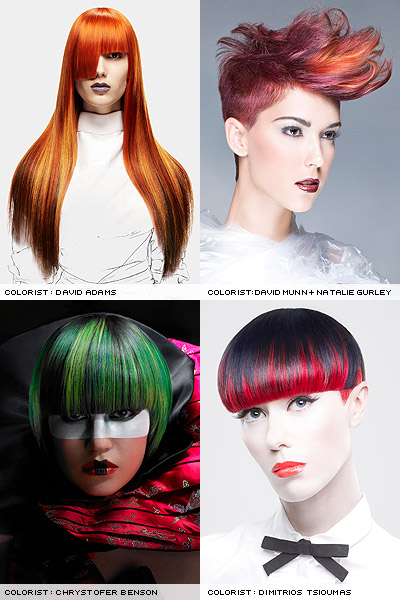 We're just weeks away from the prestigious North American Hairstyling Awards (NAHA's), which will be held on July 31st in Las Vegas, and we can't wait to see which talented stylists, colorists and makeup artists are going to take home the top prizes.
Last week we spoke to the Master Hairstylist nominees about their favorite hairstyle trends; this week we sat down with the Haircolor finalists. These in-demand colorists are on every Hollywood starlet's speed dial and they're the ones magazines turn to when they need to create amazing hair color transformations for a photo shoot. Just take a look at some of examples of their most creative work, shown at left.
We asked the NAHA Haircolor finalists to give us their expert opinions on the biggest mistakes most women make when they color their hair. Here's what they had to say:
Chrystofer Benson, Salon Tantrum, South Weber, UT
"Honestly, the biggest mistake people make is not going to a hairdresser! They choose the wrong color and process for themselves."
David Adams, redCHOCOLATE, Minneapolis, MN
"In my experience, women often think of hair color as an accessory, when it really is their 'total look.' If a guest changes her hair color, she will have to change both her makeup and the color of clothes she wears. It does not matter how subtle or bold the color–it will change her complexion, which in turn will require a different makeup and wardrobe palette."
Dimitrios Tsioumas, Mizu, New York, NY
"The biggest mistake people make when they color their own hair is that they have a tendency to apply the dye over previously colored hair (overlapping the color) which, in result, will give you an unpredictable and uneven result. The new growth is the only area where you usually need to apply hair color; the mid length and ends (previously colored hair) need a different formula or product to refresh it."
David Munn & Natalie Gurley, Van Michael Salon, Atlanta, GA
"Poor communication can often be the biggest mistake in the hair coloring process. It's vitally important to have a clear vision of what your desired results are before you start. Having a picture or looking through a stylist's portfolio are key to starting the conversation, and getting the color you dreamed of."


Try on the latest hairstyles in the Makeover Studio!
To find out more about NAHA, visit probeauty.org. NAHA is produced by the Professional Beauty Association (PBA) and will take place on Sunday, July 31, at the Mandalay Bay Resort in Las Vegas.