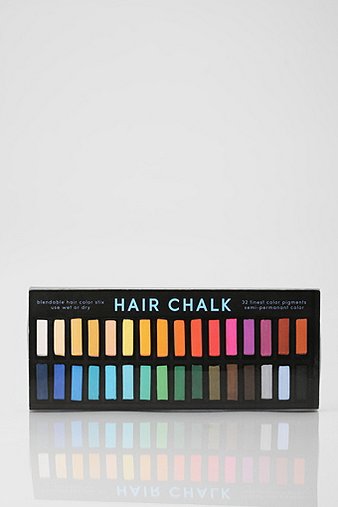 At Beauty High we constantly have new products crossing our desks and are always on the hunt for the next best thing. "The One Thing" is our way of sharing with you that must-have product that you need to introduce to your lives right now, even if it means skipping Starbucks for a couple of days.
Of all the spring beauty trends on the runways at fashion week, multi-colored hair was one of our favorites. From the French twists with pastel hues at Oscar de la Renta to the texturized multi-colored strands at Peter Som, the trend in hair this season is to stand out with tons of color. Considering the amount of spring break trips and music festivals happening, now is the perfect time to experiment with new shades in your hair. To get the look at home without the need for commitment, hair chalk is your best bet. When we found this Hair Chalk Rainbow Set, we instantly knew what our beauty plans for the weekend would entail.
MORE: 10 Best Hair Chalk Hairstyles to Make You Stand Out
What Makes It Different: 
As opposed to heading to the salon to dye your tresses a new color, hair chalking allows you to experiment and wash out the color at the end of the day. 

If you're dying to try more than one hue in your hair, this set contains every option imaginable (with a total of 32 options) so you'll have a color for every day of the week for four and a half weeks.
Unlike most pastel chalks, these work on any color hair, including black and brown.
Why It's The One Thing: 
To get this season's biggest hair trend, hair chalking is the best option out there for commitment-free trials. With the amount of colors available, you can blend colors together or keep things consistant, but whatever you choose to do, this set will keep you on trend for multi-colored hair. Plus, with hair chalking, the more messy it is, the better it looks, so everyone can do this look themselves.
Where to buy: UO Hair Chalk Rainbow Set, $14, Urban Outfitters
Image via Urban Outfitters