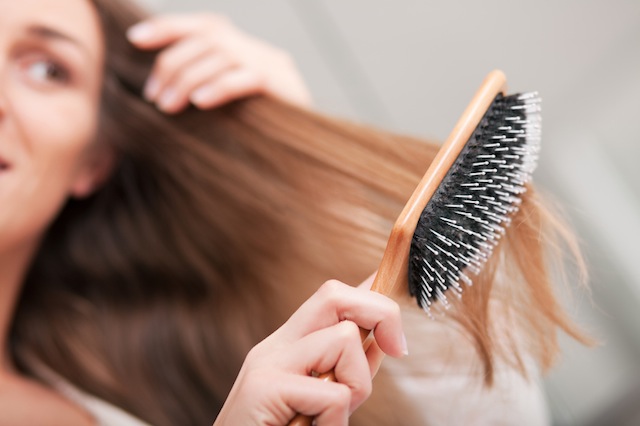 Most of us put our hair through the ringer – from color changes to heat styling, we're tugging and pulling on it praying it will do what we want, and hoping it will stay healthy as we go. But, there are times where we notice that there's a bit more hair in our brush than we'd want there to be – probably due to all of the wear and tear we're putting it through. To make sure you're not doing too much damage to your strands, we've compiled some tips and tricks to help you keep your hair in tip top shape – so you'll have healthy hair – and thick hair, too.
Don't Rub With a Towel: After your shower, don't rub at your hair with a towel, as your instincts would tell you to do. Squeeze out damp strands instead, and use a T-shirt or paper towel for the best results.
The Rules of the Brush: Never brush out wet hair. Use a wide-toothed comb instead, because it'll be more gentle (your hair is at its weakest state when it's wet). When dry, use a boar bristle brush which will help to distribute the natural oils of your hair as you brush.
MORE: Stuck In A Hair Rut? Top Stylists Help You Fall In Love With Your Hair Again
A Healthier Blow Dry: Let your hair air dry most of the way (about 80%) before going near it with a blow dryer. Then, use the cool air setting to blow dry it the rest of the way, instead of blasting it with hot air. This will also result in less frizz!
Invest in a Silk Pillowcase: When you toss and turn at night you can break off strands of hair as you sleep. Get a silk pillowcase so your hair won't snap as you turn.
Try a Gentle Hair Tie: Get a gentle hair elastic (like CyndiBands) and move around the location of your ponytail – if you always wear your ponytail in one spot, the hair in that spot will tend to break off.
Mask, Mask, Mask: And of course, nourish your hair weekly with a great hair mask that works for you – one that won't weigh it down but that brings moisture back into your strands!
Image via Istock