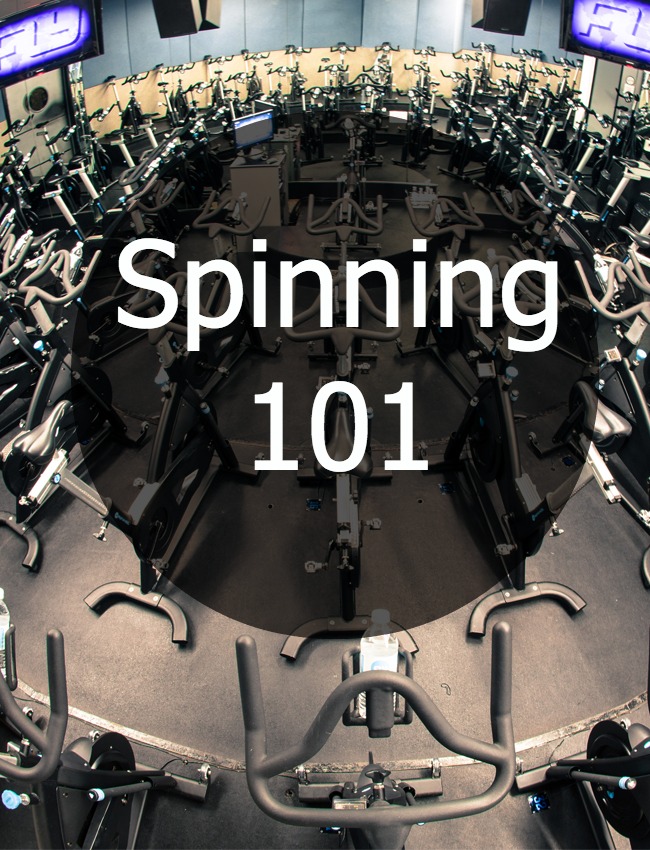 I've never been big on cycling. All I can think of when riding a bicycle is the time as a pre-teen when I forgot to hit the brakes and rode right into the person in front of me. (Maybe that's why I decided running was more my speed). But now that I'm venturing more and more into the fitness class craze, I find myself not being able to stay away from the spinning circuit. From Flywheel to SoulCycle and AquaCycling (yes, cycling underwater), stationary biking is the "It" way to get in shape. So I decided to put my cycling fear to a rest and get back on the horse, er, bike by taking a class at Flywheel, one of the premiere spinning studios in Manhattan. Here's what I learned and what you should know before your first ride.
What is spinning?
Spinning describes a high-energy cycling class, in which you'll perform "intervals, climbs and descents to deliver a full-body workout, targeting glutes, quads, hamstrings and, of course, the heart, giving the rider an intense cardio and fat burning workout," says Flywheel co-founder Ruth Zukerman. "Each class also includes a challenging upper body workout using weighted bars."
Within a 45-minute class, you can expect to burn between 500-700 calories, depending on your body weight and strength. In layman's terms, you work it all in 45 minutes. It'll burn, but if you're short on time and you want a quick workout that delivers results, spinning is worth the extra effort. As a runner, I put it in hours and hours of training and I don't get these results.
How should you dress?
It's a proven fact (ok, maybe not scientifically) that the better you dress the more motivated you'll be to work out. So dress cute, and get out there!
Practically speaking, "I recommend wearing fitted, indoor cycling pants/capris and a tank," says Zukerman. "You want to wear something you feel comfortable moving in so that you can enjoy your workout."
Opt for fitted clothes because they allow more movement, whereas baggy clothes can get stuck on equipment. And since this isn't the Tour de France, you probably won't need padded shorts. As for footwear, the studio will provide cycling shoes that actually clip into the bikes.
If you have long hair, make sure it's completely pulled off your face and neck — you are going to sweat, a lot. I wore my hair in a tight French braid and kept my bangs back with a headband.
How do you set up your bike?
"Correct form is key as it not only prevents injuries, but ensures you're working targeted muscles at an optimum level," says Zukerman.
"If you're setting up your own bike, make sure your saddle is at height level with your hips. Handlebars are all about comfort level, so if you have any kind of back issue or if you are a beginner, we suggest keeping the handlebars a little higher. To ensure you have the proper distance between the seat and handlebars, you should begin pedaling slowly. When you hit the bottom of your pedal stroke and there is approximately a 5-degree bend in your knee, the heel should drop right below your knee."
To ensure you get it right the first time, Zukerman recommends you work with staff for a quick set-up demonstration. I did this, and it saved me so much confusion.
What are the three bike positions?
"Form is key, so it is important to have hands at the corners of the handlebars, long back, chest open and shoulders down," Zukerman advises. When your bum is on the seat, that's first position. "During the ride, instructors will have you alternate to second position, where you'll be directly above your saddle and 'jog' in a standing-up motion." Third position is where you stretch your arms and grab the ends of the handlebars while, again, you come out of the saddle, and use your core to stay up.
How do you read the bike monitor?
And here's where the difference between Flywheel and the other spin favorite SoulCycle are different. Whereas SoulCycle works to create a spiritual atmosphere with candles and low lights, Flywheel creates a more competitive atmosphere with its tracking-device bike monitor. The small screen, or "tech-pack" displays your resistance (or "torque," as your instructor will call it), your speed or RPMs, and your power output which tracks your performance currently and cumulatively. Your instructor will suggest target RPMs and torques. As a beginner, Zukerman suggests taking it down a notch. "The genius of the tech-pack is that it is a 'no cheat' approach to your workout."
The day before my spinning class I ran a pretty hard workout so I knew going in that my body wasn't completely rejuvenated. But the great thing about the monitor is that it told me how off I was and forced me to work just a bit harder, pushing my legs just a little bit farther to keep up.
Wait, it's a race?
At least three times throughout the session, there's a 30-second race. "Every bike communicates with the central electronic system in the studio, giving our riders the option of being displayed on our proprietary TorqBoards, which are large flat-screens at the front of the studio that display class leaders and performance data." As a first timer, this news made me nervous. But there's really no need to fret. You can opt-out your bike the first few sessions or always keep your results to yourself. Riders can also log onto the site and see their class stats, keeping track of their progress.
So, just how hard is it?
If you're used to leisurely jogs through the park or a light aerobics classes, this workout is going to burn. Throughout the class there are either high-resistance or high-speed intervals. The good news? They're only 30 seconds long. Then you go right back to your comfortable pace. Because I was able to go back to my comfort zone (or just a bit above it), my legs quickly went from burning to feeling strong.
For me, the hardest part of the class was the "arms song." For the duration of one song, the class performs arm exercises using a two-pound bar, four-pound bar or both while slowly pedaling. Since my arms are pretty weak, I struggled through them with the two-pounder. But since the studio is dimly lit, there's no shame.
How soon will you see results?
"With indoor cycling beginners, I always suggest starting out with two classes per week and increasing to three after a couple of weeks. After a couple weeks of taking 3-4 classes per week, you'll begin to see noticeable results," Zukerman says.
Now you're ready to grab a water bottle and towel (because you will sweat), and jump on the spinning bandwagon. Just make sure to clip in your shoes first.
Read more: What Type of Yoga is Best for You?