It's no secret that we all want shinier hair. Just walk down any drugstore aisle and you'll find tons of sprays, masks, and serums all designed to make your locks look more lustrous (their words, not ours). But since most of these products don't deliver lasting results, we asked the experts for their best advice on how to get shiny strands for good.
What Makes Hair Shiny?
Shine is essentially light reflecting off a surface, says Eric Spengler, chief commercialization officer and SVP research & development at Living Proof. Light can only bounce off of smooth surfaces. If a surface is rough, the light will diffuse, so if you don't have shiny hair, then it's a clue your hair isn't as healthy as it can be. "The hair cuticle is like shingles on a roof," says Eric. "We wash it, comb it, blow dry it, highlight it, and all of those things have an influence on the outer protective layer." So while products that contain oils and silicones, like shine serums and sprays, will serve as a quick fix, they won't help hair to stay shiny, which is something only healthy hair can do.
According to celebrity hairstylist David Gardner, even the way we wash our hair can leave it dull. "The rubbing of the hair on itself is going to roughen up that outer cuticle layer and leave it dull and damaged," he says. To properly wash hair, he suggests wetting hair in the shower, applying a shine-enhancing shampoo to the roots, and letting the lather run through the mid-lengths and ends. This simple technique will get hair clean without stripping its moisture.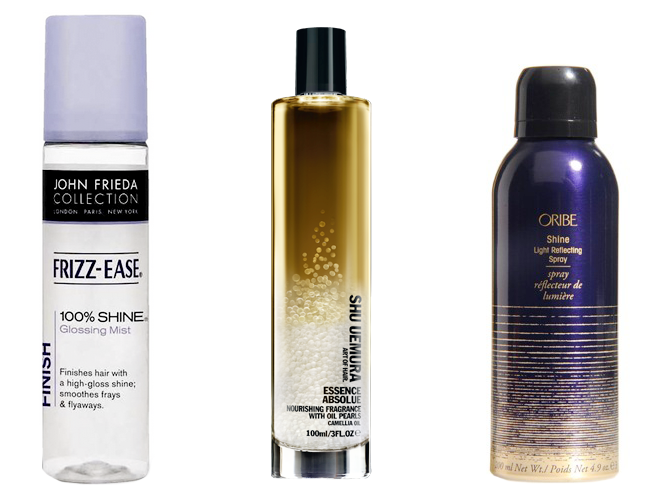 So while the answer to shinier hair isn't nearly as easy as taking some magical pill (maybe one day!), glossy hair can be achieved through a proper hair routine:
Step 1: Wash hair using David's gentle method with a shine-enhancing shampoo, like René Furterer Fioravanti Shine Enhancing Shampoo.
Step 2: Use a conditioning treatment, such as Living Proof Restore Mask, which contains a special ingredient known as OFPMA to smooth your hair's cuticle.
Step 3: Cut down on styling when you can—heated tools and constant washing will only hurt your efforts toward healthy hair—but when you do choose to give yourself a blowout, use a heat protectant spray beforehand, like Living Proof Restore Instant Protection, which has ingredients that will give hair an immediate shine.
Step 4: As you go through the process of repairing hair so it can be healthy and shiny, feel free to use quick fix products before heading out the door, like Frizz-Ease Glossing Mist, Shu Uemura Limited Edition Essence Absolue Nourishing Fragrance With Oil Pearls, and Oribe Shine Light Reflecting Spray. They're guaranteed to add a temporary sheen to your hairstyle—but, again, it's only temporary.
Read more from Daily Makeover: 5 Ways to Get Gorgeous, Healthy Hair Overnight