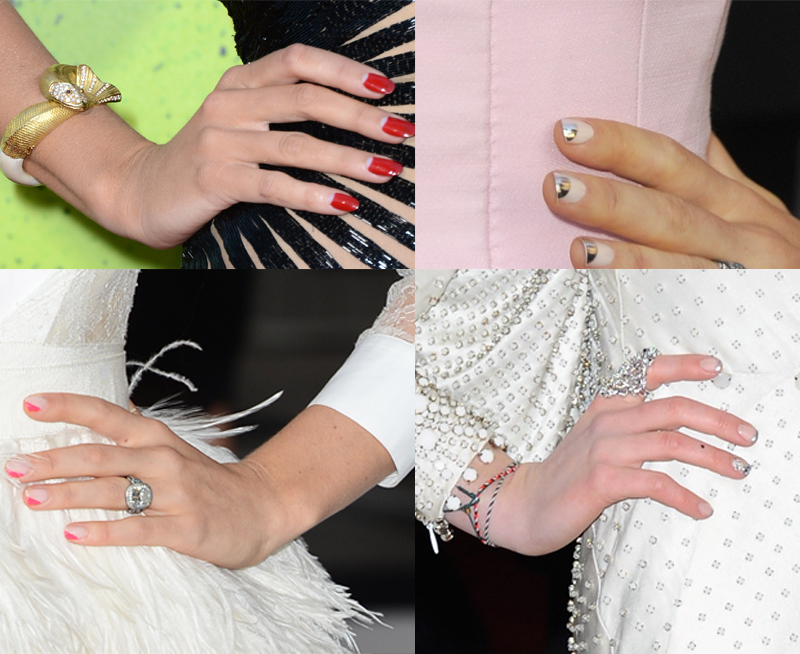 We obviously have an overwhelming obsession with nail art at Beauty High, from combing through hundreds of your #NailCall submissions each week, to gawking at each and every new celebrity design that we spot (and then of course trying out that same design on our nails). Every New Year's Eve we all reflect back on the memories of the past year – the good, the bad, the awful and the not-to-be-mentioned. These memories of course account for everything from great times with friends and family to fabulous trends (and hideous ones at times). But, it's the great trends that we don't want to forget – and what better a time to not only reflect on them, but perhaps even wear them ourselves?
Above are just a few of our favorite nail art moments from celebrities this past year – these are some of the very best, as we know there were a TON. Vote in the poll below on which one stole your heart, or simply let us know in the comments who you think deserves top honors. And of course, let us know which design you're going to be wearing to celebrate (and then tweet it at us with the hashtag #NailCall for a chance to be featured)! Then, scroll down past the poll to see which which hand belongs to who!
** Editor's Note: Not to give anything away or anything, but Jessica Biel surprised us all this year with her nail art, but we had to give the girl credit and put her in twice (twice, we know!) but she rocked almost every trend this year, with caviar, two-tone, metallics and many more. Trust us, we were as surprised as anyone!
(Answers L to R: Blake Lively at the "Savages" premiere; Jessica Biel at the "Total Recall" premiere; Anne Hathaway at "Les Miserables" World Premiere; Jessica Biel at "Total Recall")