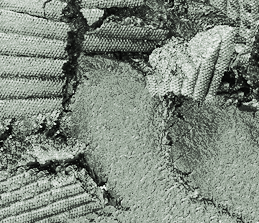 A rich shimmery shade of deep green looks great on everyone. No matter what skin tone or iris color you have, a simple sweep of this emerald shade will glam up your eyes and get you noticed. The rich shimmer of Mac Brushed Metal X in Verdigris (shown at right) almost looks wet on the eye creating a very cool look.
The key to getting the green eye right is all in the sweep. First, take an angle brush and drag the shadow across a green eye shadow, then apply it close to the roots of your upper lash line, starting at the inner corner and sweeping it back towards the outer corner. Don't apply any color under the lower lash line because keeping it simple makes this look modern and wearable.
Add a champagne highlight under the brow, on the inner corners, and a little dab on the lid. Black mascara is a must, so apply it on top and bottom lashes. A peachy pink blush and lip color is perfect to polish off the look.
This look is totally universal and is great for a holiday party!
As an established makeup artist, many beauty brands send me samples of their latest products for consideration. I only write about the items that i truly love and I always abide by Daily Makeover's Editorial Ethics Pledge in each of my Positively Beautiful posts.