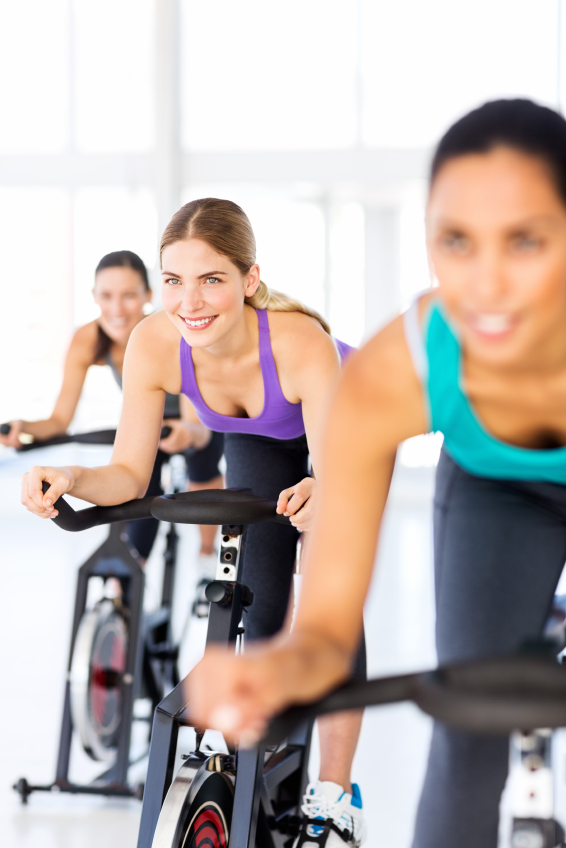 Every time we need a little inspiration to stop binge watching "Orange is the New Black" and go to the gym, we think of our favorite Pinterest quote: "Sweat like a pig to look like a fox." You only get out as much as you put in when it comes to exercising, and if that means Netflix has to be closed for 45 minutes while we head to SoulCycle, so be it. But just because you're sweating like a pig doesn't mean you have to look terrible.
We're not advocates of wearing makeup to the gym (it's basically asking for breakouts), but there are certain tricks to looking good while you're working out. Below are seven secrets to looking great that the gym.
Triple elastic your ponytail: If you decide to wear a ponytail instead of a bun or braid, try this simple trick to keep the hair off your neck. Use three elastics stacked up against each other, which will create a larger space between your ponytail and your head, keeping the lengths of your hair off your neck and out of sweat's way.
Wear colors that work with your skin tone: Whether it's your shirt or your headband, make sure you're wearing colors that make you look amazing. If you've got a cool skin tone, stay away from browns and oranges. If you're a warm skin tone, stay away from jewel tones like royal blue and raspberry.
MORE: How to Stop Having a Bad Hair Day After the Gym
Wash your face before, but don't use lotion: Washing your face before you work out is just as important as washing afterwards, but considering you'll likely sweat and get hot, skip the moisturizer before the workout so it doesn't mix with the oils and sweat on your face, clogging your pores. This way, your face will be fresh and clean while you work out, and you won't be risking bad skin afterwards.
Avoid red face: Are you one of the girls who can barely run a mile without looking like you got a horrible sunburn? Keep red face at bay by taking a low dose antihistamine before you hit the gym.
Blot with a towel: For high intensity workouts that will really make you sweat, bring along a small hand towel and blot (don't wipe) away sweat to keep yourself relatively fresh.
MORE: 10 Essentials For the Gym Bag
Hydrate your lips: Think about it: You'll be breathing heavily (likely through your mouth at some point, unglamorous as that may be) and drinking water while you work out, so your lips will be likely to get dry throughout the course of your workout. Use a vitamin E moisturizer or Vaseline to keep your lips hydrated while you're at spin class.
If you're going to wear mascara, make it waterproof: We don't really recommend wearing mascara to the gym, but we also can't blame you for not wanting to leave the house without mascara. If you're going to dress up your lashes for the gym, curl your lashes first, then use waterproof mascara to avoid a smudgey, raccoon circles situation.
Image via Istock