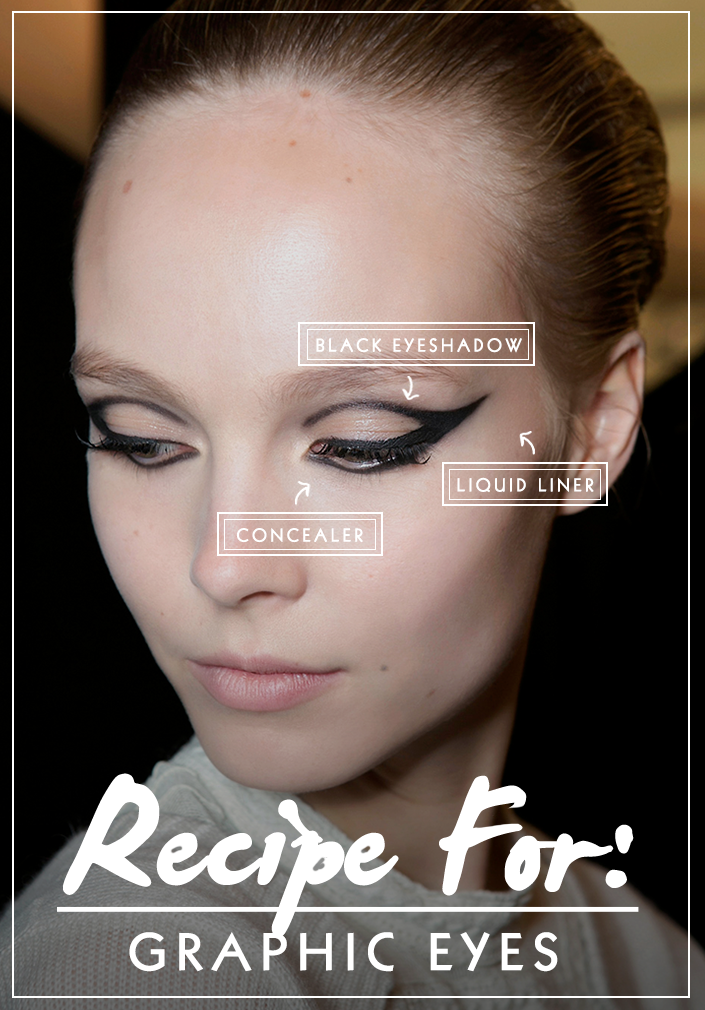 One of our favorite trends to hit the runway the past few seasons was the graphic eye, a statement making look not for the faint of heart. Besides just being fun and risky, we love the graphic eye because it's completely customizable. Whether you want full on graphics or some simple winged eyeliner, getting the graphic eye is as easy as following the steps below.
Concealer: When you're going for a bold, graphic eye, you need to make sure the rest of the area is clean and evenly toned. Dab concealer underneath to cover up dark circles and on top of your lid for a fresh, clean canvas for the eyeliner that's about to come. Once you're done with the liner, you can apply concealer to a cotton swab and clean up any stray marks or lines. This way, you clean and conceal at the same time, so your makeup will look flawless.
MORE: 8 New Ways to Wear Eyeliner
Liquid Liner: For this look, be sure to use a waterproof liquid liner so that your hard work won't smear or fade off before you're ready to go to sleep. Begin by lining your upper lash line, gradually thickening the line the further you move. Once you're at the corner of your eye, pull the liner up and out for a winged look. This example is extreme, but for a more wearable look, stick with a cat eye. Next, use the liner in your crease, beginning about a centimeter away from your inner corner, and line the crease. Meet the liner with the wing you created from the bottom so that the liner is connected. Keep your eyes closed for about 30 seconds so that the liquid liner can dry.
Black Eyeshadow: For extra staying power, use a liner brush and a long wear black powder eyeshadow to trace over the liquid liner. The powder will help absorb any excess moisture (from your eyelids or from the liquid) and will make the graphic eye even more striking. Wipe away any excess black makeup that's around the eye, and then go back to your concealer with a cotton swab (as we mentioned earlier) if necessary.
Image via Imaxtree