Stunning songbirds rocked the stage at the 2010 Grammy Awards. From Britney Spears' new brunette look to Lady Gaga's bright pink lip, we scooped tons of beauty trends ruling the red carpet.
Metallic Eye Shadow

From left, Jennifer Hudson and Nicole Kidman Photos: © Jason Merrit/Getty Images,
Mary J. Blige © Christopher Polk/Getty Images
Metallic shadow is perfect for awards season as it's a subtle way to insinuate a star is ready for the physical award of the same hue. It also lends a festive vibe that's suited for post-holiday chillier weather, no? Jennifer Hudson went for the gold with her eye shadow, offset by a bright pink lip and new blunt bangs. Nicole Kidman opted for a cooler vibe with tinsel-colored shadow and a berry lip, while Mary J. Blige told a very glamorous beauty story via golden eyes, contoured cheeks and a cropped coif.
Shocking Pink Lip

From left, Katy Perry Photo: © Christopher Polk/Getty Images, Jennifer Hudson and
Lady Gaga Photos: © Jason Merritt/Getty Images
The Barbie pink lip is no doubt the result of a resurgence of the pin-up pretty look we've seen grace the red carpet throughout awards season. With minimal eye makeup and low-key hair, it packs a powerful beauty punch while giving ladies that retro, Benefit Cosmetics packaging vibe. Katy Perry is no stranger to the bright matte pink lip, pairing it with her signature dusky locks and Betty Page bangs. Jennifer Hudson's pout popped in an electric pink shade and spotlight stealer Lady Gaga's pink lip stood out against her simply-colored (though admittedly, not simply styled) solar system dress.
Flowing Waves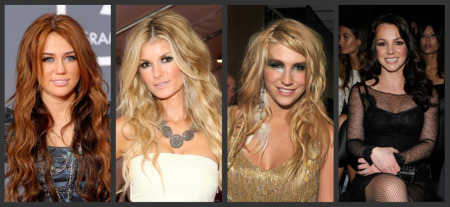 From left, Miley Cyrus Photo: © Jason Merritt/Getty Images, Marisa Miller Photo © Christopher Polk/Getty,
Ke$ha Photo: © Lester Cohen/WireImage, and Britney Spears Photo © Larry Busacca/Getty
This was a slight change of pace from the typical beachy waves and retro finger waves we see at awards shows. Naturally, the Grammys are a time to let loose and allow your inner rock star to break free, so Miley Cyrus did exactly that. The teen sensation boasted a slightly off-center part and free-flowing undone waves complimented by a soft smokey eye and a light pink lip. Marisa Miller rocked a variation of Miley's look, but added a bit of Brigitte Bardot bringin'-it-from-the-boudoir sexiness to the equation. An even more mussed take on the look was newcomer Ke$ha who paired her voluminous messy waves with an eye makeup concept cribbed straight from Jem (of And The Holograms fame). Lastly, Britney Spears new dusky brunette locks in the form of side-parted, flowing waves.
What were your favorite looks at the Grammy awards?