Awards season is in full swing! The Grammy Awards were last night, and besides Rihanna grinding up on Drake (hot) and Usher, trying to piggyback off of Bieber's fame by singing his "O.M.G." song, which is like 8 years old (lame), the awards were pretty boring. But the fashion never ceases to amaze. So let's take a look at my pics for the Good, the Bad and the Meh.
The Good (bueno, bonne)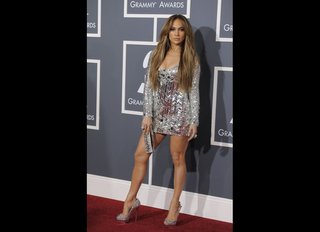 If I had legs like J. Lo's I'd wear mini skirts everywhere. To church–if I went, to a funeral, to work, to the gym. I'd be clad in a mini skirt 24/7. The dress is great, the Louboutins are fierce, and, most of all, I'm loving her wild mane of hair. It's too bad she couldn't leave her chihuahua husband at home.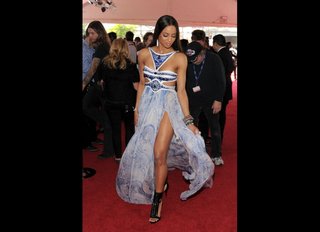 I wanted to hate this Emilio Pucci dress. But then I took a beat and realized that the only reason I wanted to hate it is because I don't particularly like Ciara. So once I got over my own dislike of someone I've never met, I came to j'adore this blue wonder. It fits her perfectly and the detail and flow of the dress is gorgeous. Werk it out, girl.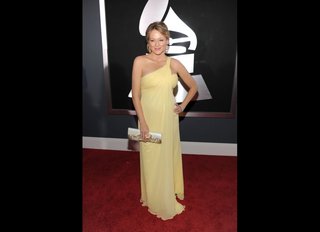 Jewel was one of my favorites for the night. The pale yellow color just complimented her baby glow so well. She looked so happy and fresh faced. Great choice.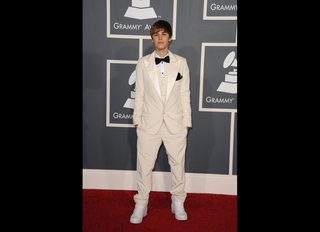 Oooh little Bieber in his D&G tux! So adorbs. I'm not a fan of sneakers with formal wear, but he's just so cute that I'm giving him a hall-pass this one time. You're a winner in my book Justin!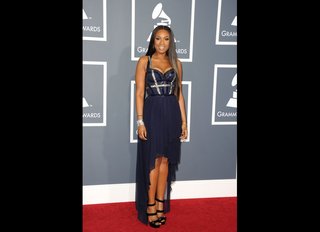 With Jennifer Hudson's may-jah transformation from flab to fab it's hard to not comment on how great she looks! I'm not a HUGE fan of this Versace number she's sporting, though. I much preferred her outfit on stage.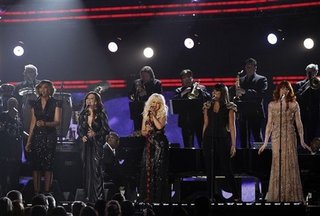 Totally feeling the jumpsuit! She looks amazing if you can see her over Snooki's Christina's bleached weave.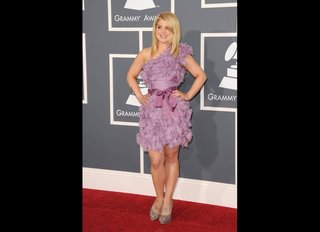 I loved, loved LOVED Kelly's dress. I've never met a ruffle I didn't like, and I just thought that this entire ensemble looked fabulous on her. The cut was flattering, the color was gorgeous, and her hair was perfect. Bravo!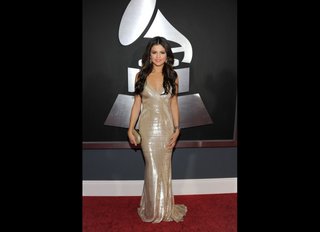 I'm not entirely sure who Selena Gomez is, and I think her speaking voice doesn't match her face, but her stylist needs a raise because this gold number was a show stopper. Coupled with the loose waves, she looked great even when Donnie Wahlberg made a joke about her and The Bieber on stage.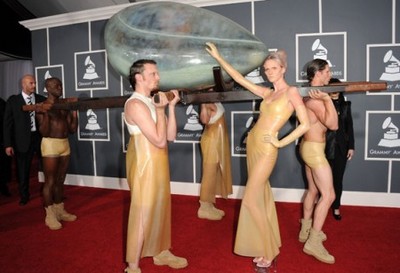 Anyone arriving in an egg womb is A-OK in my book. Lady Gaga may be whacked out of her mind 8 ways to Sunday, but she's got a bigger pair of (fashion) balls than half the dudes I know.
The Bad (mal, mauvaise)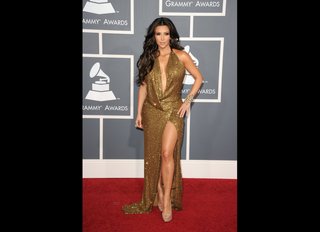 Dear Kim Kardashian,
I hope this note finds you well.
We are all aware that you have an ass and boobies. And that they are both big. But why were you at the Grammy's? Was it because your "reality" show is on E! and you had to plug it with Ryan Seacrest on the red carpet? If you could just elaborate a little on this I'd greatly appreciate it.
Also, I'd like to offer my friendship to you. I am a nice and trustworthy person and I wear deodorant. The reason I offer is because it seems that you don't have any friends. Because if you did they would've told you that you look like a porn star in this dress. Your boobs are way too big for it and it looks like you were sucker punched by a vat of bronzer.
Finally, your shoes don't match your dress. If I were your friend I would have advised you to wear something something black and strappy.
If you'd like to take me up on my offer to be friends, you can comment on this blog and I'll totally write you back. I'm kind of busy at the moment watching Skins on MTV and learning how to ski, but I think I can squeeze you in.
Kind regards,
Lisa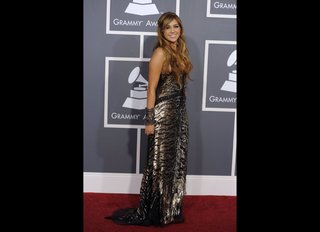 Miley Cyrus was a walking soft porno yesterday on the red carpet! Did she know that her tatas were hanging out on either side? I think she thought her stringy hair extensions were going to cover the side boobage, but no dice. Miley please. You're so young! Don't go growing up so fast.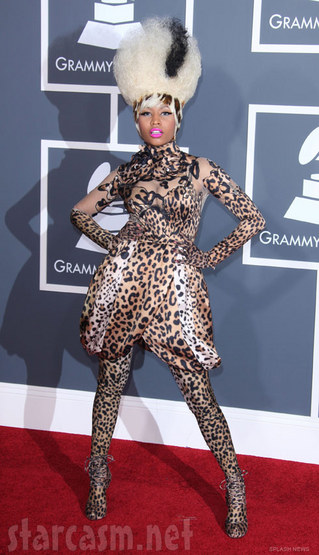 Zoo keepers, hide your leopards!!! Cruella Deville has gone from obsessing over dalmatians to frothing at the mouth for your spots!! Run! Run little guys!!!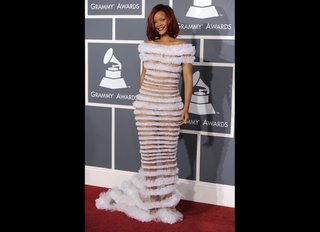 "Oh na na (where's my dress)? Oh na na (where's my dress)?"
Um. I think Gaultier decided to make this dress out of discarded garland from Christmas. Not. Feeling. It. I was, however, feeling both outfits Rihanna were for her performances with Marshall Mathers and Drake: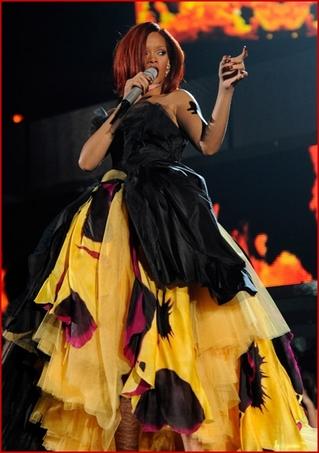 "Just gonna stand there and watch me be fierce…."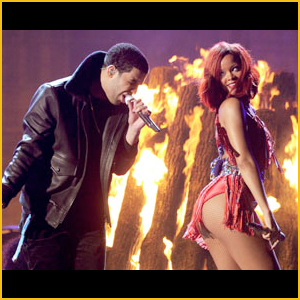 Shaking it with Drake.
The Meh (indiferente, indiffrent)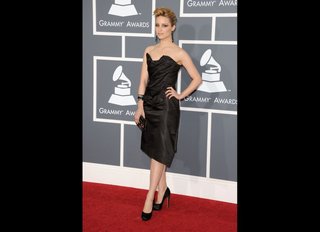 Dianna Agron is beautiful and could wear a trash bag and still look stunning. And I'm happy she took a risk with the smokey eye but I'm just not entirely sure about the dress on her. Her chest is too small to fill out that top.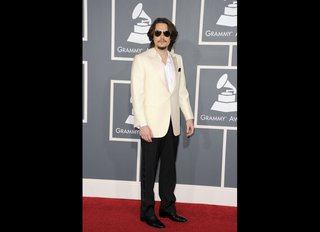 When Johnny Depp John Mayer first walked on the red carpet my initial reaction was "yikes!" But after further inspection I realized that besides the just rolled out of bed hair and flavor saver he's rocking, his outfit kind of works. It's refreshing to see guys wearing suits and looking dapper at the Grammys. Just use a razor next time John.
Did you watch the Grammys? Who were your favorites?