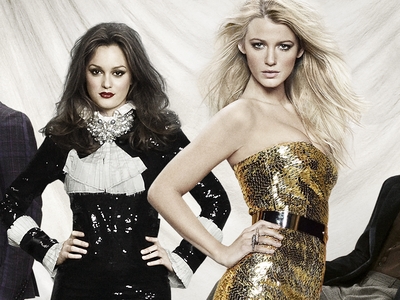 Photo: © The CW
The clothing line inspired by Gossip Girl will launch this Sunday.
The collection–created by Romeo & Juliet Couture in collaboration with Warner Bros.–will debut the line, which features outfits inspired by those worn by Blake Lively and Leighton Meester's characters Serena van der Woodsen and Blair Waldorf, at the Coterie trade show in New York.
Try on Blake Lively's hairstyles in the Makeover Studio!
Embellished tops, novelty sweaters and draped chiffon dresses will be featured in the fashion range–which is priced from $80-$200 and will be available from department stores including Kitson, Neiman Marcus and Saks Fifth Avenue. An accessories and handbags line is set to follow next year.
This is not the first time a line has been inspired by the show. Last year Kelly Rutherford–who plays Serena's stylish mother Lily van der Woodsen on the show–designed a five-piece line of clutches and totes for QVC, which she claimed Lily would love.
She said, "Lily would own the bags in every shade. They are priced so well, why not? Plus, they go with everything. I designed the bags for the chic working mom as well as the sophisticated urban girl on-the-go."


Try on Leighton Meester's hairstyles in the Makeover Studio!