The perfectly powdered faces and lined lips of the celebrities that we see on stage at the Golden Globes obviously don't get that way on their own. Between the kissing of friends in the audience and the drinking (water of course!) that is going on, everyone needs a touch-up before they hit the stage again (after a long walk under bright lights on a red carpet) as a presenter or a host. Luckily, celebrity makeup artist Bruce Grayson was camped out backstage of the Beverly Hilton Hotel to lend a helping hand as the key makeup artist at the Golden Globes, and to make sure everyone was award show ready.
Grayson gave us the exclusive behind-the-scenes of what went on throughout the night, from which products he absolutely had to have on hand to what emergencies could come up – and how what he saw last night will influence his kit throughout the entire award season. Check out the images he snapped from the night below, and read on for what he had to say.
MORE: Red Carpet Trend: Short Bob Haircuts at the Golden Globes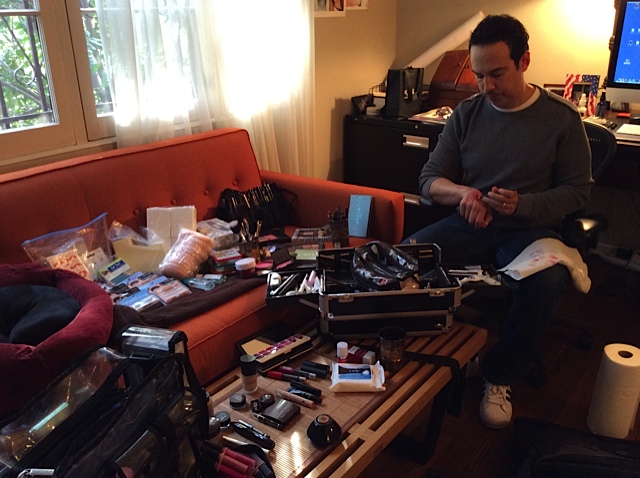 Grayson told us that he works on his kit the day before the show, noting that it needs some massive condensing to get it backstage-ready. When it comes to the kit, he calls himself an "eagle scout," bringing everything he could possibly need. The essentials are everything skin care related: Concealers, foundations, prep powders, Q-Tips, Visine, blush and just a little bit of skin care to smooth out under eye concealer of it happens to cake up.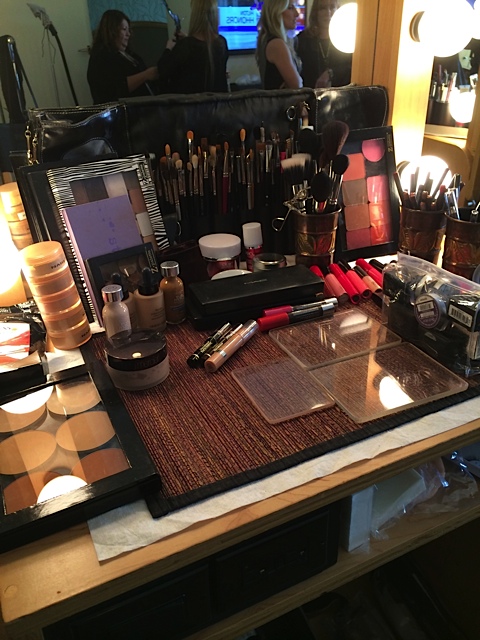 Grayson also noted that on the day of the awards show, he'll check the weather to try to gauge what's in store for the makeup on the red carpet that night. Last night, LA was supposed to be a bit cooler, but it was instead muggy (ugh!) and most of the celebrities talked about the heat coming off the carpet, which is not good for makeup. Grayson said due to this, the team backstage was really busy for the first hour or so, working hard to make sure the first round of presenters looked their best on stage. He also noted that there is a bit of a "laxness" about the Golden Globes – "there are more celebrities at this awards show than any other, so they're all hugging each other and the makeup is rubbing off from the hugging – the same thing you would see at a Bar Mitzvah." So, they are kept busy backstage touching up makeup whether it is blotting away oil, rubbing off excess lipstick from kiss marks or just freshening up with powder.
MORE: Get Kate Mara's Dramatic Eye Makeup From the Golden Globes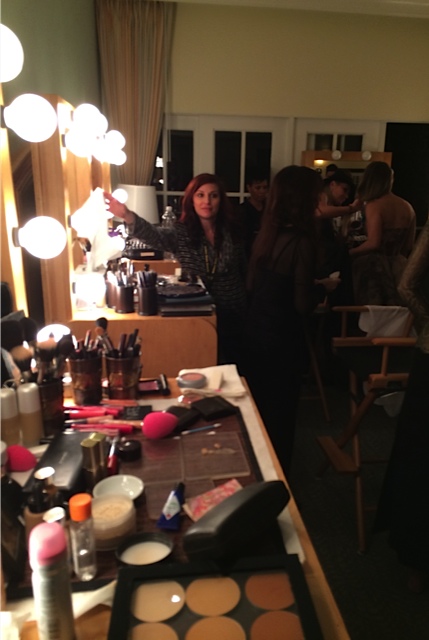 When asked how he always stays on top of the perfect lip colors to get each celebrity look touched up just right, Grayson laughed and said "I always have the colors!" He added that the work really starts the day before (when he's pulling his kit together) and he considers the trends of the season. For example, "I start pulling some dark colors like you saw on Jennifer Lawrence. She wore that dark Dior lipstick, and I pull the colors the day before the show so that I have it. I can't tell you how many times I've worked and the celebrities get pulled from their tables in the audience and they leave their clutches behind, so I make sure I have it. And, when you're touching up lipsticks and if they're done well, it's just simply pressing in a similar texture to fill it."
As for how he'll continue to predict the trends to keep correctly filling his kit as we go through awards season, Grayson noted that he definitely packs based on what he spotted at the shows he's gone to (like last night). He immediately loved the statement brows we saw on people like Sofia Vergara and Hayden Panettiere and the "transparent smokey eyes" that were enforced with lots of lash. Although, Grayson added that for the Grammys, he packs bold and bright products because it's all theatrics and performers – and you simply have to pack for the occasion.
We can't wait to see what else is to come from awards season after last night's kick-off. Can you?
All Images Courtesy Bruce Grayson