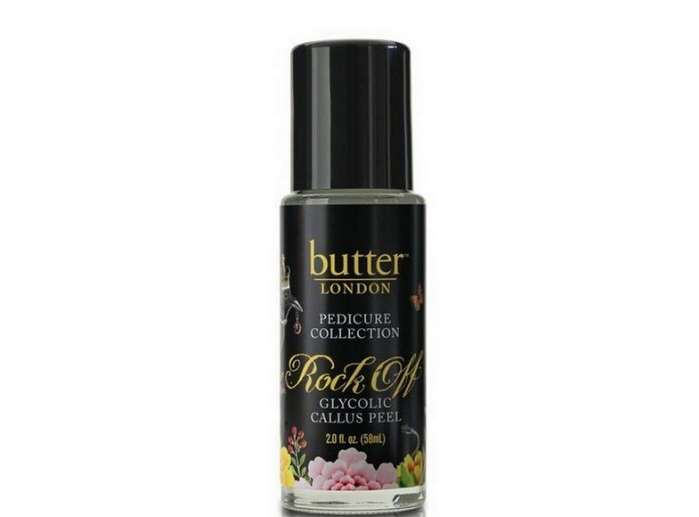 At Beauty High we constantly have new products crossing our desks and are always on the hunt for the next best thing. "The One Thing" is our way of sharing with you that must-have product that you need to introduce to your lives right now, even if it means skipping Starbucks for a couple of days.
Summer sandals are just about the only footwear we can stand to wear in the intense heat that's been hitting the city lately, but there's a huge downside to wearing our airy choice of footwear. Between spending more time walking outside and at the beach, our feet suffer from being beat up way more than when we're wearing socks and shoes in the cooler month. As a result, they become ridden with calluses, one of the not-so-beautiful side effects of choosing to wear strappy shoes. As much as you think a regular pedicure will solve the issue, it almost never gets the job done. Thus, we're forever embarrassed for our feet to be seen in anything but socks.
Butter London's new Pedicure Collection has come along, giving our feet the much needed TLC that they deserve. The Rock Off Glycolic Callus Peel is just about the greatest item for a girl with foot woes. Specifically designed to take care of calluses at home, this product will be a staple in your beauty drawer for years to come.
What makes it different: 
All you need to do is shake the bottle and roll the product onto any hard skin until wet, wait 3-5 minutes (we recommend 5), and then use a foot file on the area. The hard skin melts away and your feet are left smooth and soft, ready to proudly be shown off in summer sandals.
Other callus removers, like shavers, can hurt your feet if you don't know how to properly use them or you use them on a sensitive part of your skin. The Glycolic Callus Peel requires no special knowledge of use besides the simple instructions on the package.
Why it's the one thing: 
It's impossible for your feet to remain completely in hiding all season (unless you want that weird tan line that comes along with wearing socks and sneakers, keeping your foot white while the rest of your leg is tan) and they're bound to acquire a callus or two along the way. This remover is simple, clean, and lets you be proud, or at least unashamed, of your feet.
(Butter London Rock Off Glycolic Callus Peel, $29.95, amazon.com )