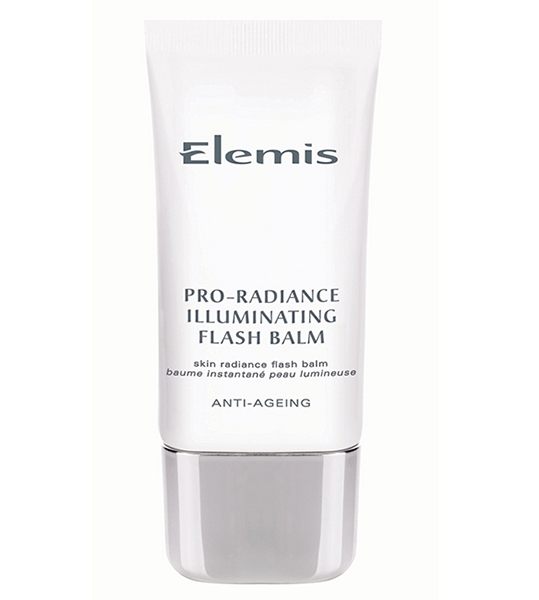 My beauty wishlist changes with the seasons. I want effortless waves in the summer, perfectly moisturized lips in the winter (primed for lipstick-wearing, naturally), rosy, flushed cheeks in the spring, and the perfect cat eye in the fall. But there are some must-haves that remain consistent year round, and at the very top of that list is smooth, glowing skin.
Here's where I start getting picky: I don't want smooth, glowing skin tomorrow, or next week, or after five consecutive uses. I'll want it then, too, but most of all, I want it now. Elemis Pro-Radiance Illuminating Flash Balm ($60, nordstrom.com) was created for people like me—namely, the very, very impatient.
In my personal opinion, the best results should always be instant, and this hybrid product delivers on that promise. When smoothed onto bare skin, the tightening effects are visible immediately. Dark circles are diminished, fine lines seem blurred, dry spots disappear, and the overall impression is a complexion that's noticeably brighter and dewier than it was just minutes before. It takes the look of dull, lackluster skin and turns it on its head for a fresh, hydrated finish right away.
If I know one thing about impatient people, like myself, it's that we don't only want immediate results—we also want time-savers and products with multiple uses. The flash balm has three: You can use it on clean skin alone as a moisturizer, beneath foundation or tinted moisturizer as a primer (and no, it won't feel tacky), or as a radiance-boosting mask, applied for 10-15 minutes whenever you have 10-15 minutes to spare. For this product, I would make the time… that is, if I weren't so afraid of running out.
Read more: Tips for Glowing Skin