Many women ask me how to get that all-over glow when it comes to their complexion. Good skin care and the right makeup are a really good start, but to get truly amazing skin the secret begins from within. It is all about taking internal antioxidants and living a healthy lifestyle like getting plenty of rest, oxygen and exercise too.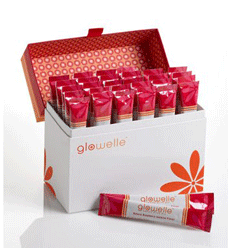 I am addicted to my daily dose of Glowelle, an age defying anti-oxidant drink mix that I have been using for 3 weeks and I swear I won't ever stop. This easy powder antioxidant packet easily mixes in your water bottle for a full daily dose of skin beautifying vitamins for glowing gorgeous skin. I work out 6 days a week so I also like to put it into my protein shakes in the morning for a boost of energy that makes me look good, too.
The ingredients in Glowelle that make skin so beautiful are the most powerful age fighters out there. Green tea, grape seed, vitamins A,C and E are just a few of the potent nutrients in Glowelle that promote flawless glowing skin and it was developed by Dr. Susan Beck a scientist and nutritionist who really knows her stuff. Available in Natural Pomigranite Lychee and Natural Rasberry Jasmine flavors these tasty packets are yummy and easy to travel with. Just throw one in your bag and you are good to go for the day. Before I started Glowelle I was scheduled to get a facial from the dry winter air dulling my skin but by week three, I had canceled my appointment because my skin looked incredible. No joke!
Glowelle is sold at Neiman Marcus stores nationwide or visit www.glowelle.com and take the 30-day challenge today and see how fabulous you look in a month. You will definitely be surprised.
As an established makeup artist, many beauty brands send me samples of their latest products for consideration. I only write about the items that I truly love and I always abide by Daily Makeover's Editorial Ethics Pledge in each of my Positively Beautiful posts.