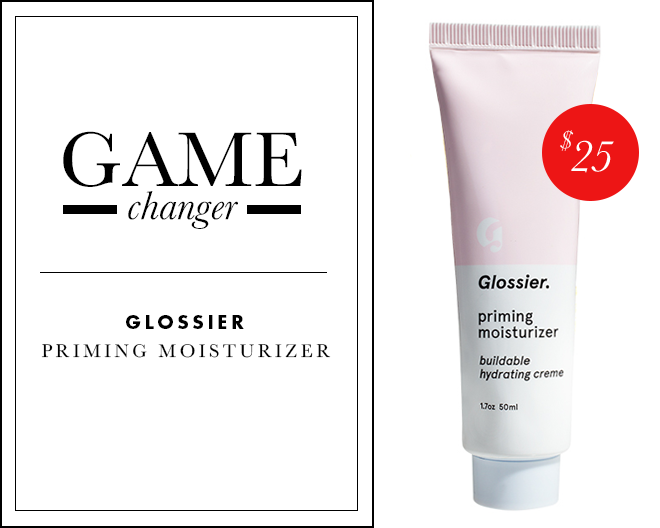 Call it beauty editor sacrilege, but I've always found most primers to be kind of useless. I've put my fair share to the test, and while some have impressed me more than others, the song invariably remains the same—with my oily skin, long days, and propensity for face-touching, I estimate that even the best primer would allow my makeup to last about 15 minutes longer than it would with no primer at all. As in the case of absolutely none of my breakups, it's not them, it's me.
Glossier Priming Moisturizer has only been on the market for a few months now, but it's already gained something of a cult following. It's easy to see why: It's packed with mostly natural, uncomplicated ingredients, the packaging is adorable, and it's beloved by a cadre of gorgeous "It" girls whom I most definitely would like to trade lives with.
But let's get past the superficial and talk about what really matters, which is why I'm calling this seemingly simple, straightforward product a Game Changer. Firstly, there's the texture, a luxurious yet lightweight cream that sinks in to a dewy, but not shiny, finish. And then, of course, there are the actual results: minimized pores, a more even skin tone, and genuine hydration, not just the chemical-laden illusion of it. It makes skin look plumper, more youthful, less irritated, less prone to redness, and more, and it can be layered for additional moisture. Let's call it skin care with benefits. It's also hypoallergenic, dermatologist tested, non-comedogenic, free of parabens and fragrance, and is not tested on animals.
The label says "moisturizing," and it truly is—would I lie to you?—but it also doesn't make me greasy, at all, ever, and in my several weeks of using it, it has been responsible for exactly zero pimples (seriously, my acne-prone skin looks great), which is so important. And as far as its non-irritating, soothing properties go, for the dry-skinned and sensitive-skinned and blemishy-skinned alike, the second ingredient is aloe extract. Need I say more? Try it, and fall in love.
Read more: 7 Primers That Will Change Your Life