Are you ready for some football? Yeah, neither are we. But what we are ready for is a super-sized post-game return of one of our favorite shows, Glee, which has been off the air for far too long. In addition to Rachel Berry (a.k.a. Lea Michele) singing "America the Beautiful" at the main event, the coveted post-game timeslot, which is the highest honor the network can bestow upon a show, is going to our favorite high school glee club. You know, normal post-football television that the average Super Bowl viewer would eat up.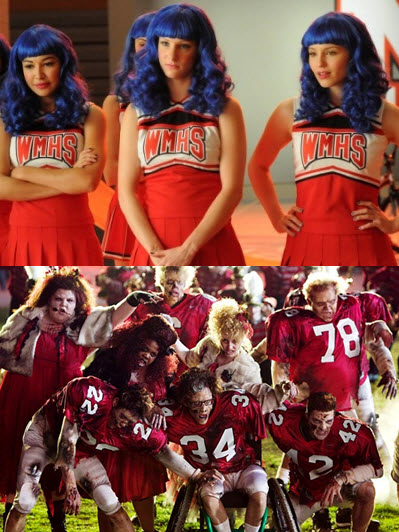 Photos courtesy of FOX
Try on Lea Michele's hairstyles in the Makeover Studio!
In order to keep the Super Bowl audience engaged, creator Ryan Murphy went straight to a tried-and-true formula with one of our favorite music videos of the year: Katy Perry's titillating "California Gurls" look. That's right, the McKinley High Cheerios will be donning Perry's signature Smurf-blue wig and megaphone bras (that will shoot fire) for the episode's opening number—just your typical high school cheerleading routine with flaming hoops, whips and mountain bike flips. We think the gentlemen who were devastated by the severe lack of cheerleaders at this year's Super Bowl will be more than happy to watch.
Try on Katy Perry's blue hairstyle in the Makeover Studio!
After luring in a new audience with the cheerleading squad's sex appeal, Glee will, of course, bust out the number they've been teasing us with for months. We're talking, of course, about the epic mash-up of Michael Jackson's "Thriller" and the Yeah Yeah Yeah's "Heads Will Roll." The pictures of the number that FOX has posted online look amazing; seeing cast members like Dianna Agron, who looked so beautiful in Chanel haute couture at the SAGs, and Jenna Ushkowitz in full zombie makeup with football uniforms has us dying to know what will happen in the episode, which is called "The Sue Sylvester Bowl Shuffle." Will you be watching?

Try on Katy Perry's "Teenage Dream" hairstyle in the Makeover Studio!
Check out a preview of Sunday's episode below!