It's a tough job but someone's gotta do it. I traveled down to the beautiful island of St. Barts in the Caribbean with the lovely folks from Glamour magazine for a swimsuit shoot. The shoot was lovely: we were styling and photographing Crystal Renn, Brooklyn Decker and Alessandra Ambrosio for the cover (and a swimsuit fashion spread) of the magazine's annual Body Issue. This year, the issue celebrated the idea that "Every Body is a Hot Body."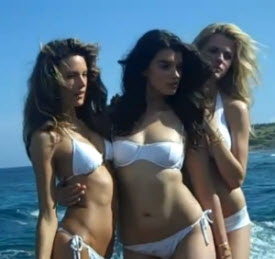 For the hair, we went very natural; very beachy and tousled. I used clip on extensions for all three girls and hair sheet styling because of the UV filter to protect their hair because we were on the beach shooting. You can see what I mean in this video I posted on Facebook. The girls all looked super sexy in their swimwear!
It wasn't all fun and games, though. During the shoot, it started raining to the point where we had to pack up and leave. We had to take a ferry over and back from our hotel to the beach where we shot, and the waves were terrible! Despite that little setback, the food was delicious — and good food is really all you need, right? We stayed in bungalows at the picturesque Guaraina in St Barth's.
What do you think of the photos? I think the girls look fierce!