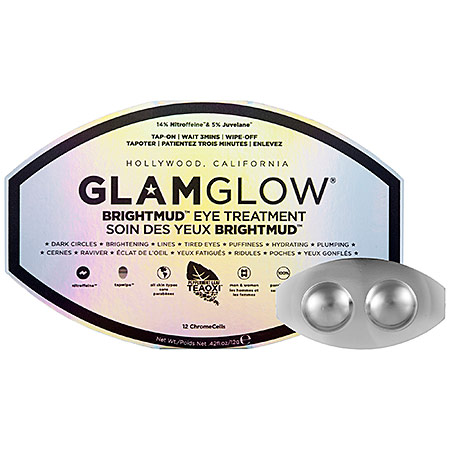 When you're doing your makeup in the morning, what's your main concern? If you've answered "Dark circles under my eyes," you're with the large majority of women facing this same frustration. You've tried tea bags, cucumbers and concealers, but the dark circles, puffy bags and fine lines take no prisoners. We're even betting you've heard the whole, "Are you feeling okay today? You look tired," when in fact you're feeling just fine and you've never been more awake. So, what's a dark circled damsel to do when she's plagued with the issue? Don't worry, girls, we finally found a product that works.
Glamglow became famous for its Supermud clearing treatment (used by stars like Miley Cyrus) and its Youthmud Tinglexfoliate Treatment, each of which were number one sellers in Sephora for good reason. Their newest product, the Brightmud Eye Treatment, is the latest beauty product to wow us. Packaged in individual pods you can take with you on the go or share with friends (if you're that nice), one pod is enough for an entire eye or you can split one pod and use one half on each under eye area. All you have to do is tap on the product to your skin, let it sit for three minutes, and wipe off with a tissue. It's that simple.
When we tried the product, we immediately noticed a few things. First, we felt a cool sensation on the area where we applied the product. This was the peppermint leaf Teaoxi ingredient, which works as a cool compress to de-puff eyes. Next, we felt a little tingling sensation, like our eyes were waking up. This came from the Nitroffeine, the ingredient created by GlamGlow containing holly leaf, yerba mate leaf, French-African cocoa fruit, Brazilian guarana Seed, Indian green tea leaf, and Indonesian rain forest coffee bean. Basically, it's like a cup of coffee for your eyes. Then, we noticed our eyes literally brightening as we looked in the mirror, which was thanks to the Juvelane ingredient that brings instant, visible results when you use the eye treatment.
While Brightmud Eye Treatment gives immediate results, it also gives cumulative effects over time, like an all-around brighter eye area after continued use 2-3 times per week. There's no denying we all need a product like this in our lives, just like there's no denying Glamglow works.
Where to Buy: GlamGlow Brightmud Eye Treatment, $69, Sephora
More From Beauty High:
Splurge vs. Steal: The Best Under Eye Concealers For Dark Circles
Nina Dobrev of 'The Vampire Diaries' Tells Us Her Secret to Covering Dark Circles
Watch: How to Cover Dark Circles and Bags Under Your Eyes