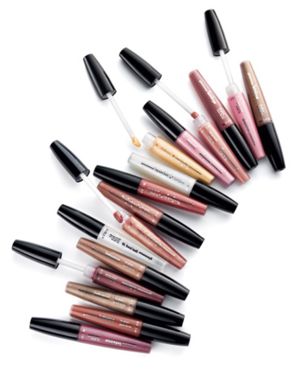 I'm the kind of girl that likes options in life. Whether it's pizza toppings or eyeliners–I like to know I've got choices. That's why I love Avon's Glazewear Lip Gloss, which comes in 16 shades and four finishes. I can go for a dramatic, saturated look with the Intense glosses, a fun and flirty shimmer with the Sparkle line or chic and lacquered with the Shine glosses. There's even a clear SPF gloss for when I'm feeling low-key.
According to Avon, they sell the equivalent of eight glosses a minute(!), making it the number one lip gloss in America. With its smooth, hydrating formula and an array of fab shades, it's easy to see why.
Special Offer for Daily Makeover readers!
We've teamed up with Avon to offer one lucky reader the chance to take home a kit filled with all 16 amazing shades of Glazewear! Just tell us in the comments section below why you are the ultimate lip gloss addict and you'll be automatically entered to win. Contest ends June 8, 2010 at 5 P.M. EST. Be sure to read the full rules and regulations.
Congrats to our winner Robin. Thanks to everyone who entered and 'fessed up to their lip gloss addictions!
As one the web's largest beauty sites, DailyMakeover.com constantly receives products from beauty companies for editorial review. Please read our Editorial Ethics Pledge if you'd like to know how we select products to feature.