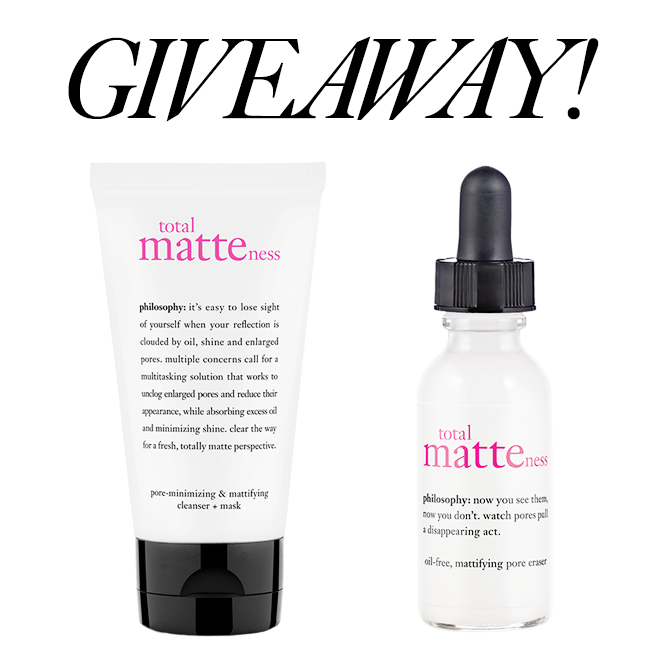 We're entering that time of year, when dewy healthy-looking skin turns into an oily mess. That's why we're turning to mattifying products like Philosophy's new Total Matteness collection. Total Matteness Pore-Minimizing & Mattifying Cleanser ($40) works as a daily cleanser and weekly purifying mask, absorbing oil and unclogging pores with its clay texture. We love the way it gives skin a super smooth finish. Total Matteness Oil-Free Mattifying Pore Eraser ($40, philosophy.com) applies like a serum so there's no water required and you can use it on-the-go. Dab on the face to hide pores, absorb excess oil and control shine. The salicylic acid acids also removes any build-up of dead cells (if you haven't been exfoliating) and brightens dark spots. But don't worry about the products drying out your skin — the gentle formulas eliminate excess oil without stripping skin.
This week, we're giving away three kits of the pore eraser and the mattifying cleanser to three lucky winners! You can enter for a chance to win by following Daily Makeover and Philosophy on Twitter from Wednesday, April 24 at 1 p.m. to Tuesday, April 30, at 4 p.m.; We'll choose three winners at random. Good luck!
How to enter for your chance to win:
1. Log in to your Twitter account.
2. Click this button to follow Daily Makeover [twitter_follow username="DailyMakeover"][/twitter_follow]
3. Click this button to follow Philosophy [twitter_follow username="lovephilosophy"][/twitter_follow]
4. Tweet us the following message: Hey @Dailymakeover, I would love a @lovephilosophy total matteness set!
We'll be accepting tweets through Tuesday at 4 p.m., and the winners will be chosen at random and announced by Daily Makeover via Twitter at 5 p.m.
For complete official rules, click here.