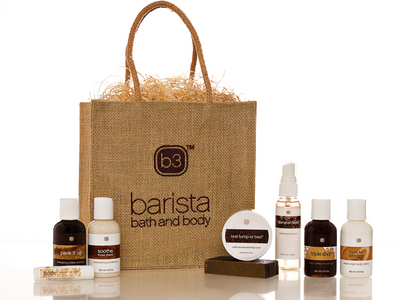 Coffee–preferred drink of the sleep-deprived. Just the smell of it can turn some people from the walking dead into functioning members of society in seconds. But did you know coffee is actually a great beauty treatment as well? It's full of natural beautifiers like caffeine and antioxidants, making it an essential beauty aid.
We're loving this new coffee-centric brand called Barista Bath & Body–it was created by a mother, daughter and niece who wanted an effective, natural alternative to the harsh chemical products on the market.
Since coffee has a pH of 4.5, which is similar to the skin's natural pH, it's much gentler and won't strip skin and hair of their natural oils like many traditional cleansers can.
The line contains a shampoo and conditioner that naturally help fight brassiness; a shower gel, soap and body scrub that cleanse and hydrate the skin without drying it out and a body lotion, mist and lip balm that moisturize and nourish skin. Best of all, each product is made with organic coffee extract and has that comforting java scent we all crave.
Win It!
In honor of International Coffee Day, and because we want to give you java nuts your fix, we've teamed up with Barista Bath & Body for a coffee-chic giveaway. One lucky winner will receive Barista's Demi-Tasse Collection–a perk-you-up set that features travel-sizes of the brand's coffee hair, bath and body products. Just tell us in the comments below why you love your morning cup of caffeine and you'll automatically be entered to win. Contest ends October 6, 2010 at 12 P.M. EST. Please read the full rules and regulations.
As one of the web's largest beauty sites, DailyMakeover.com constantly receives products from beauty companies for editorial review. Please read our Editorial Ethics Pledge if you'd like to know how we select products to feature.