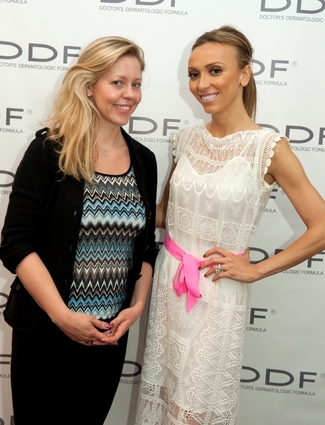 It's hard not to admire Giuliana Rancic. You can tell she's an honest hard worker and passionate about her many jobs–E! News correspondent/managing editor, TV personality, author and founder of FabFitFun.com–and manages them all with great style and a big smile. Not to mention how she faced her battle with breast cancer head on and is now about to have her first child (by surrogate) with her adorable hubby, Bill. You go, girl!
So how does Giuliana get through her day–which probably equates to a week's worth of work for most us–looking so glowing and fabulous? You'd think she spends thousands of dollars on pricey beauty products and high-tech dermatologist procedures, but she's refreshingly a more do-it-yourself kind of gal. Here's what she swears by:
Getting To The Root Of Adult Acne
1. She's practically religious about DDF Revolve 400X Micro Polishing System ($50, ddfskincare.com). "It's amazing. It's like microdermabrasion at home, but I actually think it's more effective than microdermabrasion that you get in the doctor's office, which is pretty incredible. And obviously, it's a lot less expensive. I use it twice a week with their polishing crystals, and when I rinse it off, my skin literally feels like butter. I'm not kidding you. They also have a cleansing brush attachment that I'll use daily to remove all of my makeup at night," she says.
2. She believes too much makeup can backfire. "I used to try to find makeup that would camouflage all of my issues, but now I think all that does is make you look like you have a ton of cakey makeup on, which ultimately ages you. I'm 37, which isn't old, but I'm seeing that I'm definitely getting older, and I realize that I can't wear makeup like I used to. For the past two years, I haven't been using foundation, even when I'm on TV. Instead I love to use tinted moisturizer. I love the Laura Mercier Tinted Moisturizer SPF 20 ($42, sephora.com) or the new Nars Pure Radiant Tinted Moisturizer SPF 30 ($42, sephora.com), which I think is really amazing. I just wear that, and put in a little bronzer."
3. She's mastered fake lashes. "I love lashes. They really set a look, especially, in the spring and summer when you don't want to wear a ton of makeup, but you still need some drama. I use strip of thick lashes, which I get at the drug store, like Ardell Wispies Lashes ($4.99, sallybeauty.com). These are the best! Here's my best trick: First, make sure you buy the black eyelash glue, not the white. Put a medium amount of glue on the lash, then fan it in the air for a minute–not 10 or 20 seconds, but a full minute. I'll actually set it down and put on some other makeup, then after a minute is up, and the glue becomes really tacky, I put on the lash and it sticks in place immediately. A lot of women try to put them on when the glue is still wet, and it goes all over the place," she says.